ILS Beach Volleyball Continues Winning Streak 
Immaculata-La Salle's girls beach volleyball team competes against Phoenix in beach volleyball game this past weekend. Teams ranging from the Miami to Ft Lauderdale area were competing in this weekend's events.
Sophomore Angelina Cambo alongside Junior Sofia Moreno-Bo kicked off the 18s open division game. The two remain undefeated after winning against Phoenix's Team 2. 
"The first set was more head-to-head, then we got into a rhythm in the second set and finished stronger then ever," said Cambo.
The two champs then passed over the ball to Adriana Mediana and Kiara Alietta. Mediana and Alietta were filled with uncertainty about what the income of this game may be for them due to a rocky first set, but then swiftly got their heads in the game which brought them to tie in 5th place for the 18s division. Senior Charlize Ramos and sophomore Lucia Terry placed 3rd in the 18s club division. The two played against 4 different teams. Ramos and Terry were very consistent throughout all sets with scores of 22-20, 21-8.
For #3s, Junior Christy Blanco and senior Emma Callahan wine 21-14, 21-10. The #4s, Helena Marquises and Sophie Fakhouri won 21-13, 21-10.
Senior Charlize Ramos said: "I'm really proud of my team and satisfied with the turn out of our games. This was my first ever beach volleyball tournament so I'm also proud of myself. Although it was very hot, our whole team was able to push through the heat and rewarded ourselves by jumping into the ocean post game."
About the Writer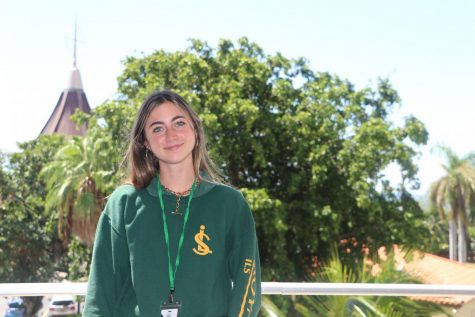 Holland Ramos, News Editor
Junior Holland Ramos sails for ILS. Her favorite sailing competition was in Cleveland this past June for nationals.