Gen Z Brought the Astrology Boom Back and It's Not Going Anywhere
From streaming platforms like Netflix, HBO, and Spotify to renowned designers such as Kendra Scott, Victoria Beckham, and Dior, when they observe a trend, they capitalize on it. This pattern was no exception for "astrology," a pseudoscience which has been around for centuries. But what caused this surprising surge of popularity among Millennials and Gen Z's? 
Millennials have been tiptoeing the line between poking fun at it to truly embracing it, while Gen Z has been more susceptible to the easy access and the spare time to plumb into the infinite rabbit holes. Both are stress and data-driven generations looking for comfort and insight in the zodiac–even if they don't exactly believe in it.
While some studies reveal that 90% of adults know their zodiac sign, there is no real evidence that shows how many of them truly believe in it. Although it's not considered an official science, a 2014 study by the National Science Foundation in America found that more than half of 18-24 years olds believe astrology is sort of scientific, which goes to show that even though there is a strong curiosity, there is no strong belief.
Even teachers, like Ms. Maria Cuesta who teaches English, Speech, and Social Media have noticed the growing interest.
"A lot of students do talk to me about astrology, and I think it is these conversations that create an increase in the astrology ads I see. It may also be a result of my age. I'm still fairly young, so I believe that the marketing is targeted to teens and people in their twenties," she said.
Even though the interest is there, rationality and research haven't been abandoned. It's merely filling an existing gap–a need for mysticism and spirituality in an information-overloaded and materialistic world. These two generations have grown more comfortable living on the borderlines of the tangible and intangible just like their lives on the internet. The world has taken note.
Brands have made the most of these attractions to the mystical by coming out with astrological marketing strategies. Spotify, for example, created personalized playlists according to the user's audio "birth chart," by determining the placements of the planets aligned with the listener's birth date/time. They aren't alone though in this trend with Snapchat making it possible for users to put in their contacts their birth chart for their friends to see and even test their compatibility.
Some have gone in-depth like the former, while other brands have stuck to the simple 12 zodiac signs.
"A lot of makeup brands like Sephora and Colourpop [have used astrology]. They're marketing specifically to people who love astrology and it's selling out very quickly," said senior Margaret Coll.
As a consumer herself, Margaret has purchased some of these products.
"I got a Gemini lipstick from Sephora and I'm planning to get the Gemini makeup palette from Colourpop," she said.
Necklaces, tattoos, lipsticks, t-shirts, even suggested products on Amazon, the list is never-ending and it seems that this Astro-boom in the industry is going to last for a while as it only continues to evolve.
"Urban Outfitters uses a lot of astrology. They sell jewelry sets for each sign. I've bought various necklaces and rings with my zodiac sign, [Scorpio]," said senior Maria Meyer.
While it might be hard to understand how Mercury Retrograde impacts anyone's overall interactions with technology, or how the full moon affects emotional well being, one thing is for sure, for many young people it is much more fun, understandable, and "shareable" to see it reflected through Bridgerton characters, TikToks, memes or suggested playlists on Spotify for the full moon vibe.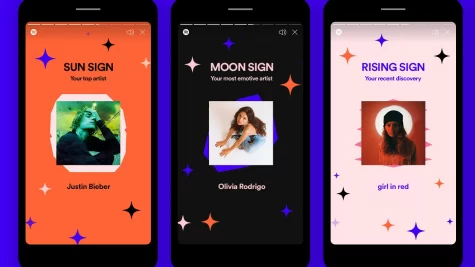 Photo: Spotify