ILS Sailing Team Brings Home Another Win in Charleston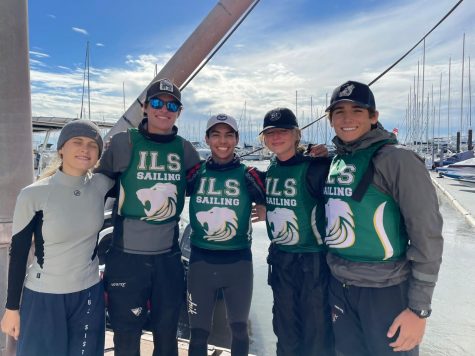 This past weekend Immaculata La Salle's Sailing team placed first at the College Of Charleston Invitational. 
Five sailors headed up to Charleston on Friday, where they received unfortunate news. Due to the unpredictable weather and heavy winds, the race committee came to the decision to cancel all races that were set to take place on Saturday, and were uncertain if races would resume on Sunday or not. 
"I was upset that we weren't able to race even though it was out of anyone's control, but I was still very hopeful that Sunday's weather would be much more promising," said sophomore Jadin Gonzalez. 
While at a team lunch Saturday afternoon, parents and sailors were brought the news that on Sunday, racing would be back on.
Sailing coach Lior Lavie could not have been happier to hear this news. 
"We have all been dealing with some very unusual conditions. As a coach I truly appreciate all of the parents efforts to keep sailors engaged and together as a team," he said.
With temperatures as low as 40 degrees, sailors gearing up and preparing themselves was a must. 
Sunday morning was finally here, and the team met up at around 9:30 to go over which sailors would be sailing in A division and which would be sailing in B division.
Senior Mitchell Callahan, and Sophomore Jadin Gonzalez sailed in A division, and Sophomore Umi Noritake and Junior Holland Ramos sailed in B division. 
Both A and B division finished in 2nd place on the first race. In race two, A division finished in second and B division finished in first. In the last race, A division ended in first and B division ended in 7th.
"Overall ,I think the team did exceptionally well especially after all of the circumstances. I am excited for the team to continue to improve and finish the season stronger then ever," said Callahan.