Clue on Stage: A KILLER Production!
A candlestick, a dagger, a wrench, a lead pipe, a revolver, and… a snake! A snake! Oh my, it's a snake!
…Oh, never mind. It's just a rope.
Ladies and gentlemen, welcome to Boddy Manor. It's a dark and stormy night as the clap of thunder and the barking of rowdy dogs fills your ears. Invited to this manor are six guests, all under pseudonyms and highly discouraged from sharing their personal information. As time goes on, these guests realize they all have one thing in common; They have all fallen victim to the same blackmailer. Suddenly, two choices are presented to the guest by their infamous blackmailer and host, Mr. Boddy (played by senior Francjose Lopez); They either double up their payment or they murder the innocent butler, Mr. Wadsworth (played by senior Drake Garcia), who has been tending to their needs throughout their stay. It seems the host has been found dead! So… Whodunnit?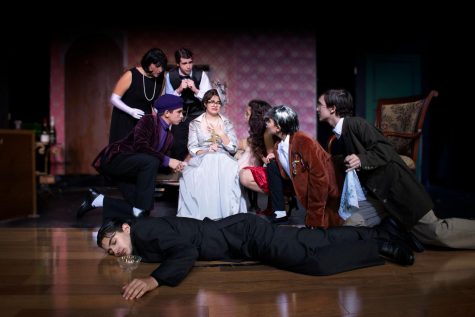 Clue is a black comedy centered around the story of the 1985 film of the same name, adapted onto the stage by Sandy Rustin.  The film was originally inspired by the family board game under the same name, bringing the characters in this widely-adored board game to life by giving each one a distinct personality, backstory, and… of course… crime. ILS originally was going to present Clue: on Stage two years ago with an entirely different cast, but its opening was prevented due to COVID-19. Thus, many students were excited to finally see this show be brought to life by the drama club.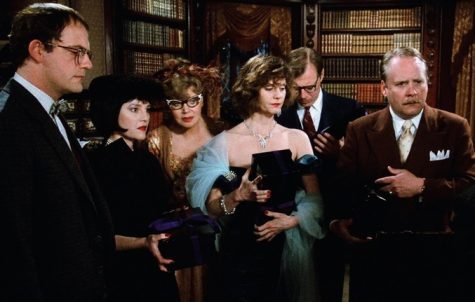 "Can you feel the deja vu?" asks proud director Mrs. Lianne Rodriguez. "Although the original production never had its day on stage, Clue found its way back to the Bayshore Ballroom! (…) Everyone involved in this show has worked tirelessly for over 200 hours. The show would not be successful without their time and devotion."
DAY 1:
Alas, after months of nonstop rehearsing, Clue finally opened December 9th, 2021. It's safe to say the cast and crew were thrilled. Seeing the audience's positive reaction on opening night was "#relieving". 
"It was awesome," cheers Maya Martinez, a sophomore who worked in Clue's art department and makeup crew. "Even though I was watching from backstage, I could feel the energy from the actors and they did an amazing job. It made me so happy that the audience was laughing and enjoying it."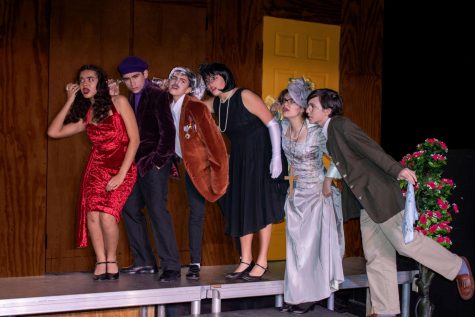 DAY 2:
Day 2 of the show rolled around and while the crew's adrenaline was still high, there were concerns that this performance wouldn't be as grand as the first.
"In all seriousness, I was expecting the worst," admits senior Amy Lam, the prop master behind the show. "Normally, the opening night goes great… But then we get (overconfident) and mess up on night 2… But today, that wasn't the case. Everything went so smoothly and the cast bonded so much!"
"I feel like we're all loosening up and getting more comfortable with having fun with the characters," said Ana Lynch, the actress portraying the lovely Ms. Scarlett. She recently portrayed the stepmother in ILS's Cinderella and Olivia in Twelfth Night.
DAY 3:
The Friday night show is always one of the most energetic performances in any production. Everyone's looking forward to the weekend– What better way to kick off the end of the week than by having a laugh.
"Every night we are getting better and better," said sophomore Sebastian Debora, who plays the charming Professor Plum. This is his first show here at ILS!
"Everyone did amazing today!" said junior Diego Orihuela, one of the stagehands. "I hope everyone gets a well-deserved rest for tomorrow's show!"
DAY 4:
It's time for closing night! This is arguably the most exciting night, as the crew is giving their all to go out with a BANG! The audience was especially reactive on closing night, applauding and cheering in reaction to the jokes spread out throughout the show. The energy from the audience reflected on the actors, creating a night of nonstop laughter and entertainment.
"I am extremely proud of the cast and crew," said Samantha Getchell, the drama club stage manager and right-hand man to Mrs. Rodriguez. "Having Clue as one of my last shows makes it have a very special place in my heart, and it definitely created some core memories I'll cherish forever. I can't say enough how lucky I am to work with the kids, old and new, in this program and how honored I feel in the trust that not only they place in me, but also the trust Mrs. Rodriguez places in me."
While the cast group chats flooded with messages of appreciation and love towards one another, senior Alvaro Amat (Mr. Green) had but one thing to say: "I still have residue from my mic tape."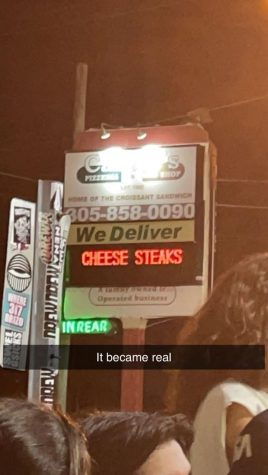 The cast and crew celebrated Clue's closing by going out and getting pizza, commemorating not only the hard work they had spent on this production but also the success that came with it. Inside jokes were shot at each other left and right and some new ones were created in the process, such as "It became real."
It was overall a night to remember for everyone involved– The drama club truly is a big family. After months of hard work, it is safe to say it all paid off. Goodbye, Boddy Manor! Now, it's finally time for the drama club to rest!
…That is until Sound of Music auditions roll around next month.
Dying to be a part of ILS's next drama production, whether it be on stage or backstage? Join the official Royals Drama Showbie: PCK4Y!