Hanah Gonzalez: Going Forward
Being a senior, one wants to graduate having it all, but not many achieve it, Hannah Gonzalez did.
Who Is Hanah Gonzalez?
Hannah Gonzalez is a senior at ILS as well as one of the leaders On the school soccer team. Whether she's spotted in the school hallways, the senior parking lot or the TikTok For You Page, she's a person who stands out. 
Admired  by her team, loved by teachers, and adored by her classmates, Hanah finds in her sport a place to escape and play the game that gives her immense happiness. Like refuge under a rainy day, she finds her safe place on the green field. 
 Even though she loves the sport, she loves her team even more.
"
"My team to me is like my other family. We work hard together to all reach one goal to win districts and maybe go even further.""
— Hanah Gonzalez
Why Soccer?
Hanah Gonzalez has been playing soccer since she was 4-years-old and playing soccer quickly became the only thing she truly loves to do. The only place she can now shower in the euphoric feeling of kicking the ball at the goalie and hearing the net swoosh as her teammates run to celebrate her. The true epitome of a passion.
Gonzalez is a center forward meaning her job is to score and it's safe to say, she's good at her job. She gets to have a lot of fun on the field and enjoy what she does, making her special on the team.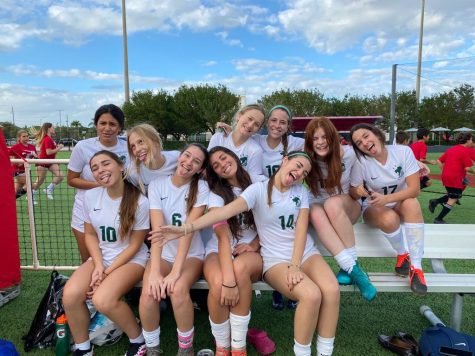 Outside Of ILS
Like any other teenage girl, she has a life outside of her sport.  Other than soccer, she loves to hangout out with her friends and go to the beach. Her goals this year with the soccer team are to win districts and try to go to states while keeping all A's in school. 
Gonzalez has all the intention to continue her sport after her high school years are over.
"Out of school my goal that I'm trying to reach is to go to college as well as still playing soccer in college. Basically get committed,"she stated.
__________
She is a dominant member on her team and her teammates respect her. On the field she is an amazing leader and outside an even better friend. She loves what she does and she's good at it, too.
As she steps into the field, the sun gleams and sweat starts to roll on her cheekbones, she lowers to tie her cleats, lifts her socks, and goes into position. She is ready to defeat.