The Dyson Airwrap: Is It Worth It?
The Dyson Airwrap emerged in 2018, gaining increasing popularity in 2021. Known as the perfect tool for all types of hair, with eight attachments that function differently and harness airflow, you get the result of a fresh salon blowout. Personally, I own this tool and I'll be breaking down the pros and cons of investing in one.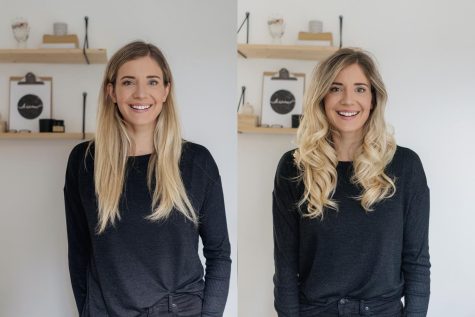 How to correctly use the Dyson Airwrap:
The instructions that this tool provides are simple. Your hair is supposed to be at least damp for the eight attachments to function properly. First, there's the main hair drying attachment that works to dampen your hair and prepare it for the other tools. There's also the soft and firm smoothing brushes, volumizing round brush and the four curling barrels. All of these come together with the same main function. Styling your hair and giving it the perfect amount of volume and shape. In my case, I start using the dryer, then the round brush (volumizing) and with that same tool I twist it to curl my hair. It's all up to personal preference, though. One thing I do want to focus on is how the curling wands work. When you attach them to the base of the Dyson, the airflow automatically wraps your hair around the attachment and works it's magic, generating a perfectly compact curl.
What mistakes can easily be made?
Well, when I first bought the Dyson I instantly wanted to return it because it wasn't properly drying my hair and it was hard to use. Don't attempt to use the tools other than a dryer when your hair isn't damp or dry. Patience is key when using this device by making sure your hair is divided into evenly thin pieces and wait for it to be completely dry. Obviously, if you want everything to stay in place, use hairspray and you'll be good. Keeping the heat setting in the warmest option can be good for people with frizzy hair, and if you want to fully erase the frizz, you can use hair products (leave in conditioner, detangler, etc) before drying your hair as it'll help. Another very helpful option that Dyson offers is longer attachments like curling barrels for people with longer hair.
Is it worth it?
Overall thoughts, when using it correctly, the Dyson Airwrap works wonders and helps all types of hair. It doesn't matter if you have thick hair or perfectly straight hair. It won't damage your hair with the heat or damage curls, and if you're looking to settle for a stable tool that works in different ways, then it is completely worth it. It also adds beautiful volume to your hair in just seconds as it is an all-in-one styling tool. It's a hair dryer, a hair straightener and a curler all in one. However, it is crucial to know the cons. First of all, it is $500 and not everyone is willing to pay such a large amount of money for a hair styling tool. If you occasionally style your hair and put effort into getting the perfect at-home blowout, then I wouldn't recommend it. It can also be hard to get the hang of using the different tools as you style your hair, especially if you rarely do your hair.
Final thoughts:
This is a very controversial topic because many people are against spending so much money on a hair tool; however, the Dyson Airwrap took three years of planning and it offers benefits that barely any other tools in the market can offer. It also saves you from stressing out about your hair getting damaged by heat. So, I think it's worth it if you're willing to spend that amount of money. You can buy it in stores like Sephora, Ebay, Ulta and even on the official Dyson website. There's plenty of dupes on the market that can work almost the same, but they can also quickly ruin your hair. So, if you want perfectly smooth hair filled with volume, the Dyson Airwrap is the way to go.