Tornado Touches Down in Lee County
On January 16, 2022, a tornado went through Lee County and destroyed 28 homes as South Florida experienced a slightly less severe version  of the same storm later that afternoon. Four people were injured and 62 homes were considered unlivable due to severe damage as a result of the tornado, minutes after touching down at 7:35 A.M.
The tornado-with winds up to 118 mph-left 7,000 homes and 15,000 people without power.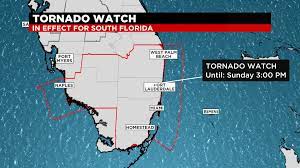 "This was a brief tornado, but it was pretty powerful," Nick Carr, a meteorologist with the National Weather Service in Miami, added Sunday afternoon.
In the town of Iona, the tornado destroyed several mobile homes and left families on the street.
"Today's mission is going to be, number one, safety, and secondly, making sure that those without a home have shelter and they have somewhere to go,"  Lee County Sheriff Carmine Marceno said.
Because of this tornado, there was a tornado watch in effect across South Florida early after the storm hit in Lee County. The tornado seemed to pass over South Florida as there was only a bout of heavy rainfall. Now South Florida will begin to get cooler thanks to a cold front.
"Tomorrow night we will probably see the coolest temperatures of the season so far," Carr said.