National Poetry Month: My Poetry Journey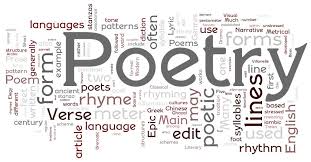 Though poetry is considered writing that focuses on imagery, sensory experiences, precisely chosen and arranged language all with the intent of eliciting a vivid response either through auditory means, I usually don't follow the strict rules of poetry. I freestyle and write my poetry like I would write in a diary. Whenever I have a bad day or a thought that I can't get out of my head, I write a poem about it. All my thoughts are written on paper in poetry form. 
Poetry is a form of writing that, in my opinion, evokes a lot of emotion; one of my favorite parts about writing. I write all my thoughts on paper and I just feel better. It could be as hard as writing about a nightmare or as epic as writing about a first love.
I started to write poetry about five years ago and never looked back. I have written over one-hundred poems over the years and hope to one day publish a collection of my work and help others, as most of my poems consist of the life and hardships of being a teenager. Finding love along with my journey toward increased overall wellness written on paper is ready to help others feel less alone. And I can't wait to see what comes next in my poetry journey.
That's why I am so excited to remind you all that it is National Poetry Month. On websites such as poets.org, they are doing daily challenges and fun creative things throughout the month of April. Launched by the Academy of American Poets in April 1996, National Poetry Month reminds the public that poets have an integral role to play in our culture and that poetry matters.
Anyone could write poetry. So if you are a person who wants to express your emotions or has something important to share, pick up a pen and start writing. 
For more resources and tips on how to get started, go to poets.org