Girls Basketball starts season with dominant win
Last night, the ILS Lady Royal Lions basketball team started their season with a dominant victory over Somerset Academy, 57-29.
This was the first game of the season and a decent crowd came out to support the Lady Royals. With friends and family in attendance, ILS took control of the game early and never relinquished the lead. In his ILS coaching debut, new head coach Danny Arguello guided the Lady Royals to their season-opening victory.
Junior Ana Sol led the team in scoring, netting a career-high 13 points. She and fellow junior Camila Corvalan served as captains for the game. Corvalan played well last night, too, scoring 11 points. She made three three-pointers on the night.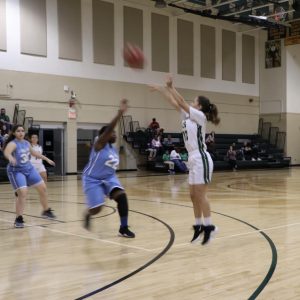 Corvalan controlled the game as the point guard and served at the top of the team's aggressive defense.
The defensive effort helped propel the Lady Royals to this victory.
Sophomore Cassie Martinez de Castro started for just the second time in her career and chipped in with seven points. Junior Laura Hernandez played her first game for ILS and was a major contributor. She was active on both defense and offense. She made several key passes on the offensive end and rebounded the ball well on defense.
Freshman Mary Scheuerle started at center and provided a big lift inside. She scored 10 points, including six in the first quarter. Her twin sister Cary Scheuerle came off the bench for the Lady Royals and scored two points. Freshman Sarah Burgoyne came off the bench as well and scored five points on the night.
Sophomores Victoria Acosta and Carla Nation both returned to the team after their freshman year and contributed to the team's win. Acosta made a three-pointer in the second quarter, and Nation hit a wild driving layup in the second as well.
Everyone contributed to the team win, including senior Sabrina Verite, as well as freshmen Tiffany Davis and Fiorella Agrapidaki.
The Lady Royals Lions travel to Florida Christian on Thursday at 5 PM for their next game. The next girls basketball home game is Friday versus North Broward Prep at 5 PM.