Mickey's Twice Upon A Christmas
Mickey's Twice Upon A Christmas came out November 9th, 2004 and is the sequel to Mickey's Once Upon A Christmas. The film is a classic comprised of 5 different Christmas shorts all including the Fab 5 Disney characters.
Each short is around 5 minutes and tells full stories that can get anyone into the Christmas spirit. Coming from someone who Christmas isn't their favorite, this movie is definitely a must watch ever December.  
The first short in the movie is titled Belles On Ice. The short is about Minnie Mouse and Daisy Duck competing against each other in an ice skating competition. All is well in the beginning until Daisy ,becomes jealous of the crowds reactions to Minnie and, tries to steal the spotlight. The two then do crazy student to try to gain the spotlight including dancing with hippos and crocodiles. The fighting gets to a climax when Minnie attempts a dangerous stunt blindfolded but then slips on a handbell. The two then reconcile and preform a grand finale together while Mickey and Donald cheer them on. 
The second short in the movie (and my personal favorite) is titled Christmas: Impossible. This short is centered around Huey, Dewey, and Louie who are Donald Duck's nephews. The three cause trouble on Christmas Eve at Uncle Scrooge's mansion in Duckburg. The boys end up in their room thinking about how they are on Santa's naughty list decide to go to the North Pole themselves and write their names on the nice list. When there the trio cause trouble and cause chaos in Santa's workshop. They realize what they have done and before leaving help clean and put together all the gifts. The trio then are given the chance to write their names on the nice list, but instead put Uncle Scrooge because he has never been on it. On Christmas Day Santa leaves a note explaining how they all were on the nice list for helping in the workshop.
The third short in the movie is titled Christmas Maximus. This short is centered around Goofy and his son Max Goof. Max brings home his girlfriend Mona to meet Hoofy for the holidays. Max though is a bit embarrassed by his dad and what will happen. The short becomes a montage to the song "Make Me Look Good" and shows little embarrassing things happening when they meet such has showing pictures of baby Max and Goofy wiping cocoa off of Max's face. Soon Max sees his scarf is made by Goofy and comes to terms with the fact that his dad will always be a goof. Max then embraces his fathers goofy side and the three enjoy the holidays. 
The fourth short is titled Donald's Gift. This short is centered around Donald Duck. All Donald wants is peace and quiet and doesn't really care for all the people singing "We Wish You a Merry Christmas" all the time. Eventually Donald, Daisy, Huey, Dewey, And Louie all go to the mall. Donald goes to grab a cup of hot chocolate but then gets annoyed by all the Christmas noises. He goes into a room thinking he is alone, but soon finds out he is actually where the animatronics are singing. He soon destroys them but then figures out it was the show the boys and Daisy wanted to see. They are heartbroken and leave. The short ends with Donald getting together people to sing "We Wish You a Merry Christmas" as an apology and everyone sings together. 
The fifth and final short is titled "Mikey's Dog-Gone Christmas". This short is centered around Mickey and Pluto. Mikey is trying to decorate his house for a Christmas party but Pluto keeps interrupting trying to help him. Pluto ends up knocking down everything. Mickey then screams at him and sends him to his doghouse. Pluto being sad decides to run away and somehow ends up in the North Pole with the reindeers. When Mickey comes back to redecorate and apologize he realizes that Pluto was missing. He gave out lost dog posters and even turned to a department store Santa who turned out to be the real Santa. Santa then returned to the North Pole and realized Pluto was there and was missing Mickey. Santa and his reindeers then help Pluto return home. When back Pluto helps complete the decorations and the film ends with a medley or different carols. 
Mickey's Twice Upon A Christmas is a classic and a must watch for anyone who wants to get into the Christmas sprits. Viewers can gain important lessons from each short. The film is enjoyable and has everything from laughs to sentimental moments. 
About the Writer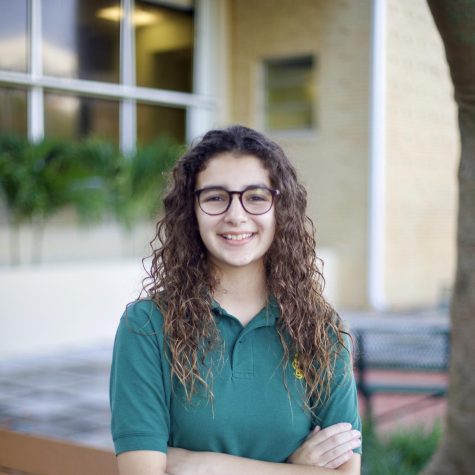 Alyssa Abril, Writer
Alyssa Abril is a senior at ILS this year and is enrolled in Journalism 3. Alyssa enjoys drama club, writing, watching movies, and hopes to be a travel journalist in the future.