ILS Lacrosse Ready for 2020 Season
As the Lacrosse season nears, the ILS team is preparing on a consistent basis for an amazing year.
This season, the lacrosse program welcomes a brand new coaching staff. The new head coach will be Mr. Rafi Montalvo, one of the ILS strength and conditioning coaches. Coach Rafi, as he's known, has been at ILS for a few years now, and he's an alumni. He has previous experience as one of the assistant coaches with the ILS football program.
In addition to Coach Rafi, the ILS lacrosse team will have two new assistant coaches, Mr. Neil Kjeldsen and Mr. John Ierardi. Mr. K is a veteran lacrosse coach and actually helped start the ILS lacrosse program several years ago. Mr. Ierardi is a science teacher new to ILS this year.
The team is progressively getting situated into the work of Coach Rafi.  Additionally, new players have been added to the team hoping to start the season with a strong foundation.
Coach Rafi is using a different take on preparing the team by adding a large sum of field work including a focus on conditioning, as well as the fundamentals of lacrosse. With a strong foundation, the team will be able to achieve there goal.
The lacrosse team kicks off there season verses Florida Christian at home at 4pm on February 19th.
Senior Ernesto Walter is one of the returning players this season and one of the team's leaders.
"We are focusing again much on the fundamentals of lacrosse and implementing more up to date plays which will for sure be giving our offense many many points this season," Walter said. "Lots of physical scrimmaging, everything going 200%, getting ready for a game time atmosphere."
Ernesto Walter is also a captain for the Lacrosse and is excited to begin the season.
"To me being captain really just means I have to set an example for the others and help then with anything they need help with, staying after practice to help with a project or run drills it's something that I take very seriously. It's not easy trying to get all these guys together but I wouldn't trade it for the world, especially my fellow seniors who i have been playing with since i started."
With hard work and dedication the team will be ready to face any opponent that's steps in front of them.
"I am very thrilled for the season to start. I'm looking forward to winning but most importantly having fun," junior lacrosse player Brandon Cuan said.
The team is on track to accomplish a great season and bring many wins home for the Royal Lions. With a new coaching staff and new players, the team can make it.
About the Writer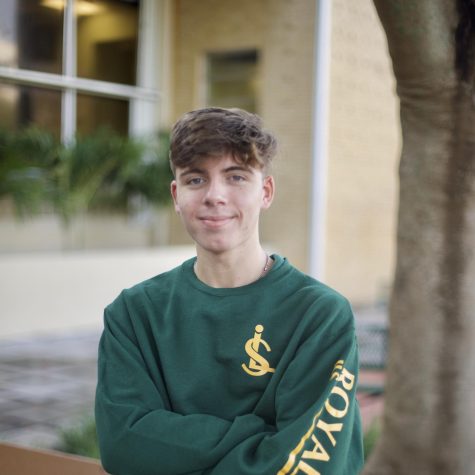 Ryan Desalle, Writer



Ryan Desalle is a senior at ILS and is enrolled in Journalism 2. Ryan enjoys traveling , fishing , and plans on studying criminal justice in college. Ryan plans on covering on campus life and news...