Choir elective
For the 2020-2021 school year, there are many electives to choose from. One of them is choir. 
When taking choir, you need no previous experience in singing or reading music. If you take this class, you will be able to sing at mass, graduation, and other school events such as Royal Idol and the Christmas Concert.
If it is your first time taking the class, you have to take Chorus I. You can not move on to Chorus II, III, or IV before taking Chorus I. The class is open to all who would like to perform or who are interested in singing or music.
When asked to describe the class teacher, Josue Cabrera said, "A very varied class where students learn from music theory, choir, keyboard, liturgical music and all about choral singing."
This class is under the Fine Arts department and is taught by Mr. Josue Cabrera. 
When asked about this elective the department head, Ms. Camille Wildenburg said, "So my thoughts on the chorus course are that the course provides a nice outlet for people to release stress through singing and to learn how to sing right because I think that singing is something that a lot of people want to do and a lot of people engage in, whether it's karaoke, having fun, or doing it professionally." 
This shows that anyone is free to join and everyone's welcome.
Also when asked sophomore, Amy Lam said, " I enjoy the class because like I said before it's a way for me to express myself and I have a lot of friends in that class and we're kinda just one big family." 
The choir class is a safe space for anyone who wants to join along with a place for people who love to sing.
Sophomore, Stephanie Ruiz said, "Mr. Cabrera, along with the students truly make the class a fun learning environment. I think everyone's enthusiasm and love for music truly shines, and that really makes me excited for the class."
The class is also an amazing experience for people who would want to be performers someday.
Happy elective choosing!
About the Writer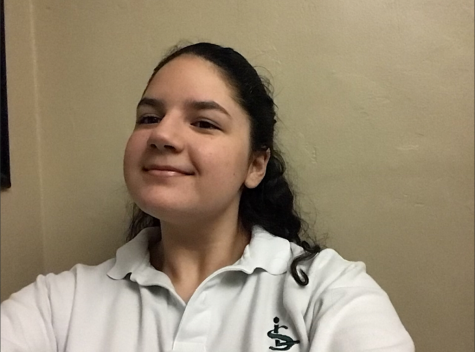 Victoria Betancourt, Writer



Victoria Betancourt is a junior at ILS this year and is enrolled in Journalism 2. Victoria is an ILS cheerleader and enjoys covering the Entertainment section for the Royal Courier.