TV Production Elective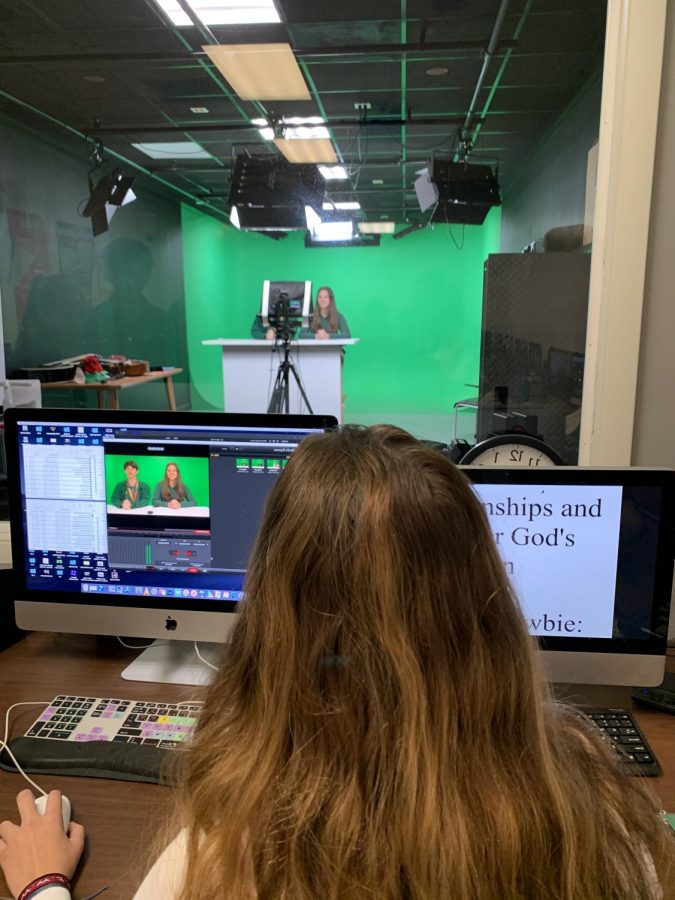 Television Production is designed to expose students to the elements that compose a television news broadcast. The class permits the student to master digital cameras, editing, sound, television, and screen writing. 
The TV Production students edit and produce a daily ten minute broadcast for LTV. There are four available levels: TV1, TV2, TV3, and TV4. 
TV 1 is for first year students, they learn how to use cameras, the editing program, and the green screen. To move on to the higher levels, TV1 must be completed.  
TV 2 students produce the ten minute broadcast. The broadcast includes four anchors: Anchor, Royal Report, Club Corner, and Sports Center. One student is master editor, log and capture, and teleprompter. The rest of the students work on filming segments to complete the show. These jobs are rotated every week so every student gains experience in each job available. 
TV3 and TV4 students have their own segment that air once a week. Meaning they have two to three classes to produce one episode of their segment. 
Throughout all four levels, students learn how to write scripts, film from various angles, how to use a camera, how to use final cut pro to edit clips/films/movies, and over all students will acquire a sense of the composition of how to make a video and much more! Students also learn self  expression, tap into their creativity, and how to put themselves out there and connect with others.
Being driven and positive are some essential traits for this elective.
"A great attitude of being positive always trying to find the silver lining in everything. Having an entrepreneurial spirit like being a go getter, going out there and trying to create something out of nothing. Being coachable, being willing to take feedback," says TV production teacher Mr. Mendez. 
For those interested in the film industry, this elective is a great opportunity for learning and experience. TV 2 student Melanie Remond agrees, "If you are interested in taking TV production as an elective all I have to say is that you should because it is such a great way to be introduced to the film world especially if this is what you are interested in doing in your career."
This class is also perfect for those who enjoy filming and editing. 
"I chose to continue the class because I really enjoy editing and film and I think this class is the perfect way to express this passion/hobby of mine. I'm super excited to be an anchor everyday next year in TV 2," says TV 1 student Sophia Rabelo.
I personally love being apart of this class, I have learned so much about what goes into producing and have come to appreciate anything like music, commercials, and movies so much more. It is so satisfying to watch an idea in your head come to life and I get to experience that everyday in TV production.
About the Writer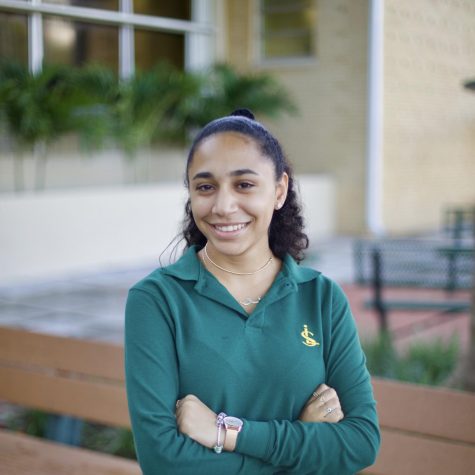 Noor Andre, Editor



Noor is a senior at ILS this year and is enrolled in Journalism 2. Noor enjoys creating content for both the ILS tv broadcast, LTV and the ILS newspaper, the Royal Courier. In journalism, she enjoys...