ILS March Calendar UPDATE
On March 5th, an email to the ILS community was sent concerning this month's school activities. Due to the recent outbreak of the coronavirus, the rapid spread has caused the Archdiocese of Miami Department of Schools to make the decision to postpone or cancel school field trips as a precautionary measure.
The school has been advised to act with caution during this developing health situation. Immaculata-La Salle will continue to keep a watchful eye towards the information, but the March school calendar has been changed accordingly. 
These are the events that have been postponed: the STEAM parent meeting, the Environmental Kayak clean up, the 9th grade Placement exams, the Ignite retreat, and Royal Idol. 
The following events have been cancelled all together: the Catholic Youth Submit, the Columbia Scholastic Press Association convention in New York, the Pigeon Key science trip, the Thespians competition in Tampa, the Mu Alpha Theta math competition in Cypress Bay, the Blood Drive, the Lenten Tea event, Parent-Teacher conferences, and the Spring Pep Rally. All 7th grade visits to ILS have also been cancelled for the time being. 
Junior Sofia Farres was set to be one of the students attending this year's Columbia Scholastic Press Association convention in New York City.
"I'd been looking forward to CSPA for a really long time and it getting canceled because of this virus was something I didn't expect at all," Farres explained. "It was hard to wrap my head around and I'm really sad about not being able to go, but I understand that it's being done for our safety. Hopefully, this all blows over soon so that we can all start traveling again."
With the third quarter ending next Friday, Parent-Teacher conferences were scheduled to take place on campus on March 23rd. However, this event was among those cancelled. Parents have been advised to email teachers directly to arrange a conference call to discuss their student's performance.
Fortunately, some March events are continued to run on as scheduled: all College presentations, including the MDC College Presentation, as well as the For The Kids Marathon. 
In this time of concern, ILS administration and the Archdiocese are working hard to keep the schools safe, and are not taking any chances for a student or teacher to be put in a compromised situation. While this news was disappointing to many, students can rest assured that the school has their best interests in mind. 
About the Writer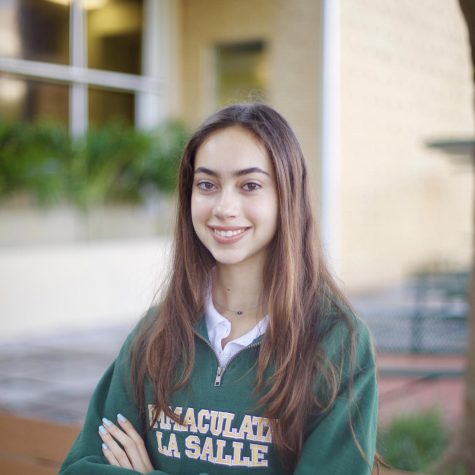 Sasha Kuntz, Writer
Sasha Kuntz is a senior at ILS this year and is enrolled in Journalism 1. Sasha enjoys spending time with animals and reading novels.