Six ILS Cheerleaders Earn All-Dade First Team Honors
Awards for the ILS Cheerleading squad keep rolling in. After winning the Immaculata-La Salle's first team state championship this year, six Lady Royal Lions cheerleaders earned All-County first team honors from the Miami Herald.
This honor is the cap to an incredibly successful season that saw the ILS Cheerleading team win States, after being a state finalist in 2019. Led by team captain Sophia Peñas, ILS won the Class 1A Extra Large Division, Non-Tumbling division with a score of 78.10. They finished four points ahead of the second place school  Stranahan High School from Fort Lauderdale, and five points ahead of third-place Trinity Catholic from Ocala.
"Through injuries and people quitting, the team went through a lot this season," said ILS Cheerleading coach Coral Buxeda. "We practiced almost everyday from November to the day before states to make sure that we had a perfect showing. When they announced us as state champions, it made all the blood, sweat, tears, long practices and sleepless nights extremely worth it. I believed in this team since the beginning. The cherry on top was it being our school's first state title in 60 years. What an honor."
But the accolades haven't stopped there. On Wednesday, the Miami Herald published it's All-County teams for Winter Sports, including Basketball, Soccer and Cheerleading.
The All-Dade team selections are based off of state performances and ranks. If you get contacted by the Miami Herald for this honor, no more than six team members can be chosen to represent the team in the newspaper. 
Since the ILS cheer team won States, they were featured heavily in this year's All-Dade team.
The girls chosen to represent the team are juniors Sofia Peñas, Ana V. Salazar, Kaitlyn Laurido and Isabella Sacasa, as well as sophomore Alexandra Garcia and freshman Valerie Welvart. 
Coach Buxeda was excited to hear the news.
"It was an email I'd hope to get since we won States, so everyday I would wake up and check my emails in hopes to see an email from the Miami Herald," said Buxeda. "When we finally received it I was filled with so much joy!" 
Since the team is now an All-Dade team, this puts Coach Buxeda in the running for Coach of the Year.
Usually, the cheerleaders selected to represent the team would have a photo shoot, along with a brunch with all the other All-Dade athletes. But due to COVID-19, the girls had to do an at home photo shoot with their uniforms and medals. 
"I was extremely happy of my accomplishments not just for myself, but for the entire team and the coaches," said co-captain Ana V. Salazar. "We have grown so much and I'm so honored that I could be one of the first athletes to get this title in this team's history." 
Salazar has been on the team since her freshman year and she's seen the team be built with her own eyes. She has seen how much hard work it has taken to get to this point throughout the years.
"I think it shows other girls that this team is no joke. We put more if not the same amount of training any other sport at ILS does, on top of having to cheer on football, volleyball, and basketball," said Buxeda.
When asked about plans for next season, she said that there's a lot in the making since she needs to top this season. Click on the Gallery above to view the cheerleaders honored.
https://www.instagram.com/p/B-Z0Hm9FjPj/?utm_source=ig_web_copy_link
About the Writer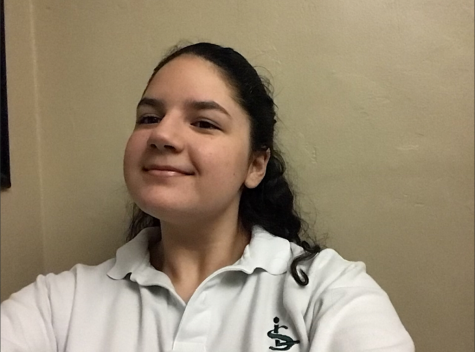 Victoria Betancourt, Writer



Victoria Betancourt is a junior at ILS this year and is enrolled in Journalism 2. Victoria is an ILS cheerleader and enjoys covering the Entertainment section for the Royal Courier.