Athlete Spotlight: Gabriella Caputo
With Spring Sports and all of on-campus schooling suspended due to the ongoing coronavirus pandemic, the ILS Athletic department has teamed with the ILS Media department to highlight specific Royal Lion athletes. The first of these Athlete Spotlights is senior Gabriella Caputo.
Caputo is a three-sport star at ILS. She competed on the Cross Country, Track and Field and Tennis teams for the school. She one of the most talented and versatile athletes in the Class of 2020.
"Being an athlete at ILS on the Track, Cross Country and Tennis teams, I looked forward to running or playing tennis every single day after school," Caputo said via email.
"Everyday day for me at school revolved around how I would be able to hit my times at practice or meets and push my team to do the same. Being a runner and tennis player with such an amazing coaches it was very easy for my to accommodate to everyday practices alongside my awesome teammates."
Caputo's coaches included Eddie Cerdeiras and James Rydborn. Both would agree her leadership and dedication served as a guiding light for the other members of the teams.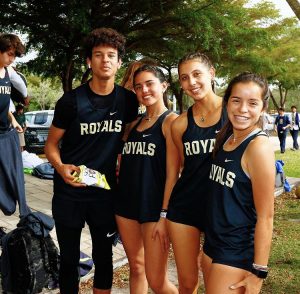 "Her strength is being able to connect and relate to all members of the team," Coach Cerdeiras said of Caputo. "Gabi's humility, her presence, her loyalty and commitment to excellence is second to none. She is respected by her peers and coaches with high esteem."
Despite participating in three different sports, Caputo's top performances seemed to come as a runner for ILS. She was a cornerstone of both the Cross Country and Track teams as a leader and a captain.
"We have had excellent leaders throughout the years," Coach Cerdeiras said. "Up to date, we rank Gabi as one of the top two captains and leaders we ever had in cross country and track."
Caputo demonstrated her leadership skills as a senior this season with the Cross Country team. She was the oldest runner on the team and the only senior. She counts her senior season with Cross Country as one of the best she's ever had.
"One of my favorite memories running at ILS is the Cross Country team's meet in Orlando this past year," Caputo explained. "As being the only senior on the team, this 4-hour road trip to Orlando allowed all girls and I to really bond as it was one of my last meets with them. Ever since that race, not only did the girls team grow into a family, but so did the whole team."
"
Gabi's humility, her presence, her loyalty and commitment to excellence is second to none."
— Coach Cerdeiras
Caputo's humility shines through when she discusses her experiences.
"This past running season I was blessed to have such amazing teammates and coaches," she said. "I grew extremely close most of the girls on my team, especially during cross country season on our long runs everyday after school. I also never thought I'd be able to have such supportive coaches who became my mentors all throughout the season."
Caputo accepted the mantle of leadership with the different programs gracefully, but as Coach Cerdeiras says, she also lead with some tough love.
"Gabi's funniest moments in ILS Athletics have always been when she gets upset at any of her teammates without ever raising her voice. Her facial expressions is extremely poignant and yet VERY funny," Cerdeiras revealed.
Her performances as a runner for the Royal Lions remain among the best the school has seen in years. Caputo was a two-time qualifier for the regional races as an individual, and she led the Cross Country squad to two regional qualifiers as a team as well.
Among her accolades is the fact that Caputo was an important part of the 4-by-800 team that set an ILS school-record. Her personal-best 5K time was 21:25. She was under 2:40 in the 800-meters and ran under a six-minute mile.
"Gaby's such an amazing hard worker," said ILS Athletic Director Nick Fernandez. "You can always find her in the gym or out on the field training. She doesn't ever stop and is a great leader for the underclassmen. She will definitely be missed when she graduates this year!"
As Caputo prepares to leave ILS and the programs she's anchored for so long, she leaves some important advice for the underclassmen.
"For future runners, the best advice that I could give is that running is all MENTAL you can do it!"
https://www.instagram.com/p/B-fNSr8lAvj/?utm_source=ig_web_copy_link