ILS Art in Quarantine
For many people, one of the benefits to being quarantined is an uptick in creativity. Many people seek a creative outlet during these uncertain times to provide a new and unique activity. ILS students are no exception to this.
The ILS Fine Arts department features a number of creative classes for students to engage in. Among them is Introduction to Art, 2-D Design, 3-D Comprehensive and Drawing and Painting. Fine Arts department head Camille Wildenburg is an artist herself and teaches many of these courses.
Naturally, social distancing efforts have kept the students from working in ILS's impressive art studio, but that hasn't kept the students from producing interesting and moving work.
"As the art teacher of the ILS artists, I am proud to see the art students working so diligently during this time," Ms. Wildenburg said via email.  "Art is a great outlet to de-stress and escape our current reality. It also gives the students a fun, but academic artistic challenge during this time."
Some of Ms. Wildenburg's students have embraced this artistic challenge.
"The quarantine situation as a whole is a drag, but when it comes to making art at home, it's definitely a nice distraction and outlet to put my energy into," said senior Victoria Elise Gonzalez. "I think all this time at home could be good for artists because it gives us a chance to reflect a lot on what we do and what we want to make of our work."
Many, like Anna Faustina Habsburg-Lothringen see this creative outlet as an opportunity to try something new. "I use art to express myself and to release my stress. I'm using this time to work on things that I would not usually work on."
"
It makes me so happy to see the art students executing even more patience and skill now that they're so creatively able to apply their talents from a virtual platform!"
— Ms. Wildenburg
Working at home, though, does come with challenges. Many students are find themselves in newly crowded spaces and find its difficult to focus on work. They also miss whatever inspiration may have come as being on campus at Immaculata-La Salle, particularly in the art room.
"I think the work I produced from home is completely different from the work I usually complete in class," said senior Sofia Sidelnik, who has been part of the Fine Arts program all four years at ILS.
"Removing myself from such an artistic atmosphere surrounded by different pieces of art has changed how I work. Usually in class I can discuss my ideas and try different things with instant feedback so by working in isolation my work has become very instinctive."
Sidelnik says working in her own space is missing a "certain feeling."
"Not only do I miss being in a classroom so full of life and art, the work I am able to produce is limited," she said.
Ms. Wildenburg acknowledged the limitations of producing at home as well. "They may not all have art supplies at home to make art, but the phenomenal abilities of the iPad in this digital age of technology have helped further the characteristics and overall qualities of the students' artworks," she said.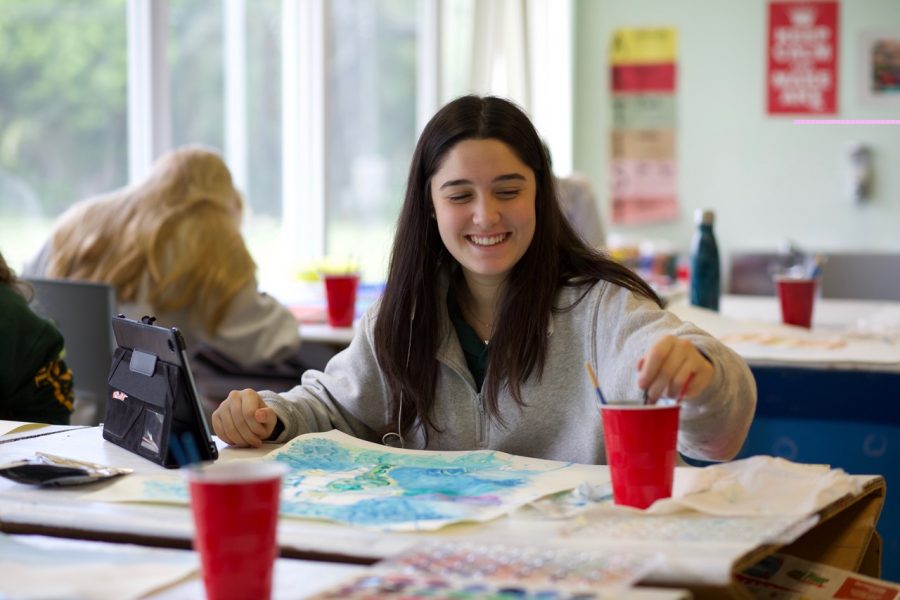 "I think that my art works form home have been educational and fun," senior Isabella Valdano said, echoing Ms. Wildenburg's sentiments. "I love playing with the art apps there are on the iPad and discovering new possibilities and painting styles that can be made using the options the apps have. It has helped me relieve stress and has been a great way to pass the time and be productive."
Valdano recommends the app Procreate for its variety of fonts for letting, as well as the versatility of the brushes and available colors.
Gonzalez agued for the pros of working from home, and she expressed a measure of pride in her work.
"Most artists work better in their natural state of home," Gonzalez explained. "I honestly felt as though I did much better from home than I would have otherwise. I'm able to focus a lot more on my own work without being worried that it's not what everybody else is doing."
While most will acknowledge the current situation is not ideal, students have embraced the new virtual platform for learning. This  emergency shift has highlighted the creativity of not only the students, but of the teachers as well. The ILS faculty has had to reinvent the way they approach learning, and with hands-on disciplines like art, that can be a creative challenge.
"I feel that working in isolation has strengthened my ability to make creative decisions and execute different works of art," said Sidelnik. "It's definitely become a little harder to work on some projects. On the other hand, having so much free time has inspired me and many others to create more work and spend more time dedicated to art."
Valdano has used her class as a creative outlet.
"Art has helped me cope with all that's going on and relieve stress by taking my mind off the situation," she said.
Habsburg-Lothringen sees this situation as an opportunity to challenge herself, while Ms. Wildenburg called the latest batch of projects "inspirational."
Directing the Fine Arts department and these student-artists in particular is a source of joy for Ms. Wildenburg.
"It makes me so happy to see the art students executing even more patience and skill now that they're so creatively able to apply their talents from a virtual platform!"