14 ILS Athletes Named to All-Dade Teams
On Wednesday morning, the Miami Herald released their All-County teams for the Winter Sports. This is a yearly honor for high school athletics. The Winter Sports included boys and girls soccer, boys and girls basketball, wrestling and cheerleading.
"
It's a testament not only to their hard work but the direction of the programs."
— Athletic Director Nick Fernandez
Immaculata-La Salle had a notable distinction of seeing 14 different athletes honored this year, including seven athletes on the "first team."
The first team honorees were juniors Sofia Peñas, Ana V. Salazar, Kaitlyn Laurido and Isabella Sacasa, as well as sophomore Alexandra Garcia and freshman Valerie Welvart. They were all members of the state championship winning cheerleading team.
"I believed in this team since the beginning," said cheerleading head Coach Coral Buxeda. "The cherry on top was it being our school's first state title in 60 years. What an honor."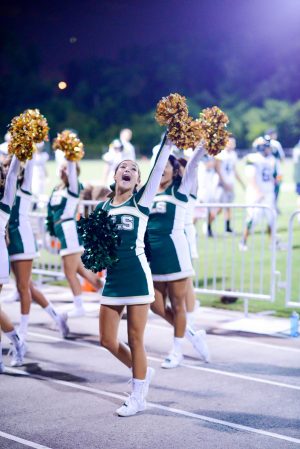 The other first team honoree was senior Kamani Turner, who played on the varsity boys soccer team. This was Turner's second All-Dade honor, as he was named to the first team last year as well. Turner played a pivotal role on the ILS boys soccer team, which has won the Regional Championship two out of the last three years.
Senior Miguel Valle earned All-Dade second team honors for his play this year with the boys soccer team. And senior Anabel Toledo earned All-Dade third team for her play with the girls soccer team this season. 
Honorable mention distinctions also went out to seniors Sofia Concepcion, Valentina Pafumi and Jessica Saavedra, as well as junior Sabrina Sousa.
ILS girls soccer coach Anthony Vuono was particularly proud for his players.
"The girls soccer coaches, player and alumni are very happy for the players that received the All-County recognition. We would especially like to recognize the four seniors who were honored, and thank them for a wonderful career."
Of the 14 athletes honored this year, six were seniors at ILS. Their dedication and work ethic paid off with this acknowledgement. But that means eight of those honored are coming back to ILS and have a chance to build on their successes!
"It's really great and amazing to see so many athletes on these different All-Dade teams," said ILS athletic director Nick Fernandez. "It's a testament not only to their hard work but the direction of the programs. I am so happy for these athletes and the head coaches, who put I so much time into the sports they love! Extremely excited for the future of ILS athletics!"