My Quarantined Birthday
The coronavirus pandemic has caused a lot of tragedy throughout the world. Because of this, people born in the months of April and May have had to get creative when celebrating their special days. 
I just happen to be among that group of people. On Friday April 24th, I turned seventeen in quarantine. 
I wasn't super excited for my birthday at first because I didn't think I'd be able to do anything other than eat cake in bed all day, but much to my surprise it ended up being the best birthday yet all thanks to some super amazing people who went above and beyond to make it special. 
When I woke up in the morning, my parents had decorated the whole house and my mom had her amazing chocolate chip pancakes ready for me at the table. There were balloons everywhere, flowers, banners, and a giant inflatable cupcake. It was epic. 
It had been a great start already and then I noticed that my digital production teacher, Mr. Taggart, had opened up a Showbie folder titled, "Sofi's B-Day Party." 
I've been in the STEAM program with the same kids since my freshman year and Mr. Taggart was our first teacher. We all got really close and have become like a little family. At 11 am, when members of my H-Block digital production class, Mr. Taggart, and I logged onto Zoom it was one of the best parts of my day.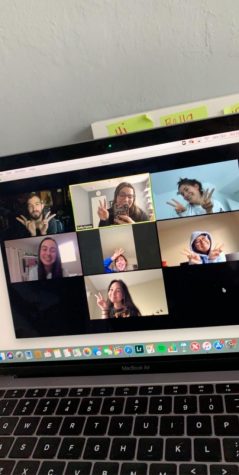 Right after that, I got a text from another group of people that means a lot to me. This past October, I went on a retreat in New York with 7 other kids and 2 teachers, Mr. Shaheen and Mrs. Beltran. 
I got really close with everyone in the group and they've also become like a second family to me over time. We hadn't had a reunion since before virtual school started. It just ended up being a coincidence that all of us were free on my birthday. 
Being able to talk to them again and catch up was so amazing and I finally got to meet Mr. Shaheen's son, Jack! 
I didn't expect that all of these people would take the time out of their days to talk to me, especially my teachers who are busy with their families and work. It meant so much to me because I've missed them greatly, as they have shaped me into who I am and have become such integral parts of my life.  
Throughout the entire day, people had been stopping by and leaving surprises for me outside the door. Some friends brought me cookies, others got me McDonalds and Starbucks, another brought me all of my favorite candy bars.
It was really nice to be able to see some people even if it was just through my window and I felt so blessed that they took the time out of their day to come see me.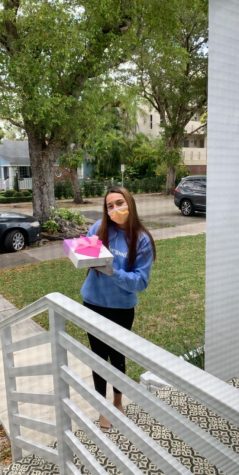 After that, I'd thought all my surprises were over and I was just relaxing in my room enjoying my day off from school. But then at around 6 pm, my mom came into my room and told me I needed to go outside. 
When I walked out, I saw a ton of cars and everyone was honking and screaming. They all had balloons, food, and gifts for me. It was insane and I was so overwhelmed with happiness. 
It turned out that my best friend, ILS senior Sebastian Calonge, had planned an entire caravan for me. There were a total of 35 cars filled with all my friends and their families that came to wish me a happy birthday. 
It was one of the best things I've ever seen. I was originally so sad that I wasn't going to be able to spend my birthday with all the people who are important to me, but I ended up still being able to do that, just differently than I thought I would.  
It was especially significant knowing that a lot of them live far from my house. Seeing how much thought everyone put into the little gifts they dropped off for me, or even just the way they drove by playing my favorite music was so thoughtful and heartwarming in every way. 
After that I was almost certain that I'd already received all my surprises, but as I was getting ready to put on my pajamas and eat cake, I get a call from one of my friends, ILS senior Giorgio Fernandez. 
He directed me to a little bag that had a flash drive inside of it. He told me to plug it into my computer and when I opened it up I saw that he'd put together a video for me with clips of all my friends wishing me a happy birthday and saying how much I meant to them. 
Despite not really being able to spend much time with any of them in person, I'd never felt more loved than I did on that day. My friends and family went above and beyond to make sure that I had the best birthday I possibly could, even with all of the sad stuff that's going on in the world. 
It was truly a birthday I'll never forget. 
If your birthday is coming up and you're sad about being in quarantine, I encourage you to make the best of it and try to see the good in the situation, even though it seems like there isn't much of it. I know it's hard, but just trust that something amazing will come from it. 
If the birthday of someone you love is coming up, make sure to take notes from what my friends and family did for me. Try and find a way to do something special for them because even the smallest things can make someone happy in a big way.  
Yes, there's a lot of sadness and tragedy in the world right now, but it's our job to lift each other up through all of this. 
Spending a birthday in quarantine may not be a big deal in comparison to all of the other things going on in the world, but it can still add to someone's feelings of loneliness and anxiety. 
Birthdays are a great excuse to spread some love and bring joy into someone's life. I am immensely grateful for all the people who took the time do that for me, and I hope this inspires everyone else to do the same for those they love! 
About the Writer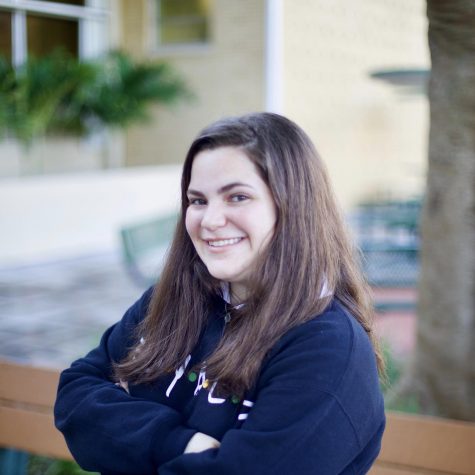 Sofia Farres, Editor-in-Chief



Sofia Farres is a senior at ILS this year and is enrolled in Journalism 2. Sofia enjoys participating in ILS service clubs and student government and hopes to pursue journalism and film in the future.