ILS Girls Volleyball Facing Drastic Changes In 2020
Nothing has been the same for anyone since COVID-19 halted school and sporting events in March. And in the case of the girl's volleyball team at ILS, their fall season is being severely affected.
Typically, the volleyball season lasts three months, ranging from late August to the middle of October depending on if there's a playoff run. But in 2020, the JV and Varsity teams will compete for just one month.
"I know for me it's difficult to fathom how short it is," assistant coach Maria Cuesta said. I want to work on so many technical things during practice, but certain aspects of the game can't receive too much coverage because we don't have the time we used to have."
But in a year like 2020, nothing is assured and the team is moving forward with what they've been given.
"Nevertheless, one month is better than nothing, and I am beyond grateful that we can at least have a season for both JV and Varsity," Cuesta added.
The volleyball team wasn't able to get on the court throughout the entire summer unlike most years, and had to adapt to ILS' COVID-19 protocols for practices and workouts. Over time, the girls were able to transition from outside conditioning to outside practices with a net to ultimately starting indoor practices with a mask as they prepare for their season-opener versus Coral Shores next Tuesday.
https://www.instagram.com/p/CFDTaSmJlDv/?utm_source=ig_web_button_share_sheet
"The team was extremely understanding and accepting of the new protocols set in place," Cuesta said. "They are all very passionate about playing and practicing, so they understand that the safety measures are implemented so that they can remain healthy and continue to have a season."
The varsity team has big shoes to fill following a 15-9 record last season that included a Class 4A District 15 championship. However, they'll have to fill in for the departure of five seniors, including last year's captains Mikayla Sanchez and Isabella Falero.
Nonetheless, the team has its mind set on repeating as district champions.
"With everything going on it has been a challenge, but I believe that with hard work and the right mindset we can win districts again and go further than last year," said senior Adriana Medina, who played a pivotal role in last season's success.
Medina and junior Kiara Alleiti were named the Varsity captains for the 2020 season. And Cuesta, along with the rest of the coaching staff, believes they're the right student-athletes to lead the team to success.
"These two girls are impactful leaders that continuously strive to be better in every corner of the game," Cuesta stated. "They're extremely positive and competitive, and these qualities seem to flow in our other players because of their leadership."
The front row was an area that needed a lot of addressing as it was primarily held by seniors, but the additions of Ramos and juniors Hailey Posado and Daniella Jansen will provide depth to the position.
As for the back row, Daniella Fernandez, Anna Vitti, Sofia Moreno-Bo and Sophie Fakhouri are all first-year varsity players that will be valuable to the team.
"At the end of the day, defense wins games, so having the inclusion of these players will benefit us," Cuesta said.
About the Writer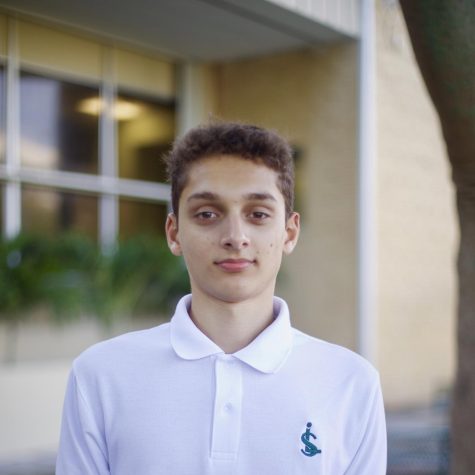 Anthony Yero, Co-Editor-in-Chief



Anthony Yero is a senior at ILS and is enrolled in Journalism 3. Anthony enjoys covering the Sports beat for the "Royal Courier" and looks forward to a career in journalism.