ILS Girls Volleyball Senior Night!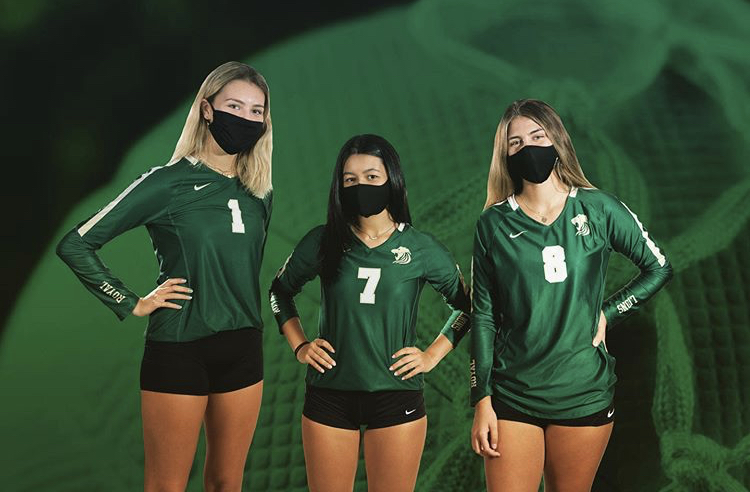 The ILS Girls Varsity Volleyball team stands at 6-2 this season entering Friday's Senior Night Game versus iMater Charter. The team will celebrate the careers of three seniors on Friday: Emma Callaghan, Adriana Medina and Charlize Ramos.
The Lady Royal Lions have had a very strong season thus far, going 6-2 through their first eight matches. Coming off a district championship last season, the ILS Girls Volleyball looked to defend their crown despite losing several key seniors to graduation.
This year's seniors, Callaghan, Medina and Ramos, have all stepped up in their own way to fill the void and help ILS defend its district championship. The Lady Royal Lions have won two in a row, bouncing back after a tough loss to American Heritage.
Prior to that setback, just the second loss of the season, the ILS Girls Volleyball team ran off four wins in a row, including impressive sweeps against rivals Monsignor Pace and Gulliver Prep.
"These senior girls have been a joy to watch the past three years," said ILS Athletic Director Nick Fernandez.
Of the three seniors, Adriana Medina has spent the most time on varsity, this being her third year at ILS. Medina transferred to ILS as a sophomore and immediately became an impact player at the varsity level. She amassed 414 assists as a junior, an incredible number. As a senior, Medina earned a roll as team captain.
Assistant coach Maria Cuesta remembers Medina arriving for the varsity try out as a sophomore and immediately knew she'd be a great fit for the program.
"Of course, the talent was there, but beyond that, Adriana was dedicated and had a clear desire to be better," said Cuesta. "She would listen attentively to every single coach, and within the first few practices, she became our starting setter."
According to Coach Cuesta, Medina brings a calmness to the team. She never lets her nerves control her game, and that leadership-by-example has helped the Lady Royal Lions win a district championship and complete for another. Despite being all business during the game, Cuesta says she'll also miss Medina's humor and laugh.
Thus far as a senior, Medina leads the team in aces (9) and assists (60), and is third on the team in digs (26). For her three-year ILS career, Medina has registered 89 aces, 176 digs, 10 kills and 689 assists.
For the last two seasons, Emma Callaghan has been part of the Lady Royal Lions varsity volleyball team. The two years prior, Callaghan played an important role on JV.
"She has been an absolute pleasure to coach these last four years, and, more than anything, witnessing her growth as a player has been one of my ultimate coaching highlights," said Cuesta.
Cuesta says she recognized an untapped power potential in Callaghan early on, and as a senior, she's become a total powerhouse. She also calls Callaghan one of the sweetest people she's ever met.
"I have always loved watching her play, but just seeing her overall growth as a player has been wonderful watch," said Cuesta. "Now every time she spikes with complete force I'm yelling as loud as I can through my mask!"
As a senior, Callaghan has piled up 28 blocks, 24 kills and seven aces. She's tied for first on the team this season in blocks, is third in aces and fourth in kills. As a junior, she put up 57 kills, 16 digs, nine blocks and three aces with the varsity team.
Callaghan calls her experience playing volleyball at ILS the "highlight of my high school experience."
"From the teammates that turn into best friends to the life lessons the game has taught me, there are not sufficient words to express my gratitude for the volleyball program at La Salle," said Callaghan. Her favorite memories include winning districts and the annual Dig Pink games.
Callaghan said her senior season, while limited, has been a growing experience. Although the team doesn't have the energetic crowds, they are still focused on winning the district and competing in regionals.
Charlize Ramos echoed a similar sentiment regarding the lack of fans in the stands, but she recognizes the value of this experience.
"I am also blessed that we even had the opportunity to play and have some sort of a season," Ramos said, who calls defeating Lourdes as a sophomore her favorite specific memory. "This has been my favorite volleyball team I've ever been on and wouldn't want to spend my last year with anyone else."
Ramos is in her first full season as part of the varsity team. She's contributed four kills, two aces and two blocks in 13 sets played thus far. As a sophomore with the junior varsity team, Ramos helped lead the Lady Royal Lions JV squad to a 21-5 record with her 22 blocks, 21 kills and 19 digs in 27 sets played.
"I have truly found a family within all my teammates and learned what it meant to be a part of a team," said Ramos. "It has taught me so many things about myself and how to work with others.
Coach Cuesta, who's worked with Ramos at both the JV and Varsity level, recognizes a player who has continually sought to improve her game year after year.
"Not only has she remained dedicated, but she is extremely persistent," said Cuesta. "Thanks to her drive to be her best self, Charlize is now part of the starting lineup. It's wonderful to see how well she gets along with everyone on the team, and I know that there is a positive vibe surrounding this year's team thanks to her."
Despite a COVID-shortened season, the ILS Girls Volleyball team has played extremely well. Entering Friday's Senior Night, the Lady Royal Lions are 6-2 and sit atop the 4A District 15 standings.
ILS AD Nick Fernandez expects this group to defend their district championship by winning another one in 2020.
"They are going to be the first back to back district champs since 2015-2016 volleyball seasons," said Fernandez. "It really speaks to the passion, love and hard work they have poured into their high school careers. It also says a lot for the head coach Danny and his staff who have been leading the program for two years now. I am excited for the future but sad to see [the seniors] go."
To watch tonight's senior night contest at 5 PM, follow this link: https://www.youtube.com/watch?v=H4nGu_Wdsx4