Teachers Celebrate Hispanic Heritage Virtually
Last Wednesday, Teachers celebrated Hispanic Heritage by mixing their classes up, incorporating aspects of Hispanic Heritage into their every day schedule. Whether they teach Music, Math, English, or Science, there was a way for everyone to celebrate.
Normally, ILS celebrates Hispanic Heritage by throwing their annual Feria Latina. Due to COVID-19, however, a different approach had to be taken.
"Since we celebrate Hispanic Heritage every day in class, we didn't participate in Hispanic Heritage Cross Curricular day," said Mrs.Crotty, head of the World Languages Department at ILS.
"For Spanish five honors, we had a geography and history lesson in Spanish about Spain and the influence the Moors had on the language, culture and music of Spain from 711 to 1492. For Spanish three, we did projects on 'El Dia de los Muertos'."
The World Languages department wasn't the only one on campus to incorporate lessons regarding Hispanic Heritage. Most of the departments connected their classes to the theme in some meaningful way.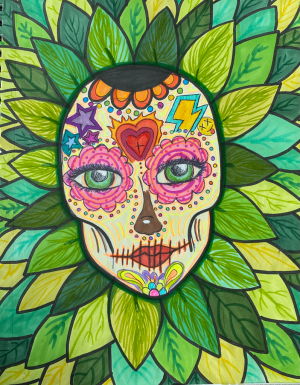 In the Fine Arts department, Ms. Camille Wildenburg, the department head and art teacher, had her students mimic the traditional style of art from Hispanic cultures. They also studied famous Hispanic artists as well.
"In honor of the November 2nd Central American Day of the Dead holiday, the ILS art students created sugar skull artworks to pay respects to a friend, family member, movie/book character or pet as a sign of reverence of their lost loved one," said Ms. Wildenburg.
In the English department, senior English teacher David Fernandez connected to the theme with a discussion of the Disney movie "Coco" (2017).
"In my class, we were going through a lesson on archetypes and the Hero's Journey," said Mr. Fernandez. "So what we did was we analyzed the characters and the story from 'Coco' from that lens, and we spend some time discussing the specific story elements that were connected to the Mexican culture and how Disney presented them in the movie."
Living in a city like Miami, you encounter different types of heritages and cultures everywhere you go. Miami has people that come from all different walks of life, and people that are from all sorts of places.
"In many of our Spanish-speaking countries, the Catholic faith has been essential. Through celebration of Hispanic Heritage, we were able to study Scripture, listen to the words of Pope Francis, who is from Argentina, learn about Marian devotions and saints, and share in our diversity as one ILS family," said Mrs. Lopez-Hernandez, a theology teacher at ILS.
Hispanic Heritage is everywhere and is celebrated year-round. Depending on the country and its traditions, there is always a way to celebrate and recognize Hispanic Heritage.
About the Writer
Victoria Sosadias, Writer
Victoria Sosadias is a sophomore at ILS this year and is enrolled in Journalism 1. Victoria enjoys being a part of the ILS Royal Lion Band and making music. She hopes to pursue a career as a musician.