Homecoming Week Recap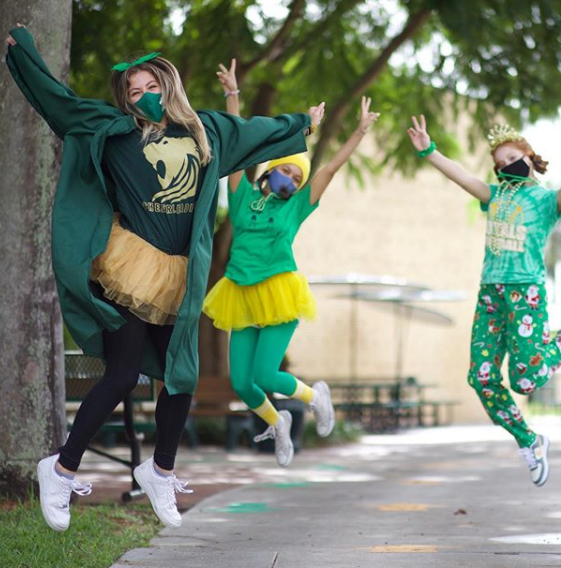 Sadly, Homecoming Week is over. ILS adjusted the normal proceedings to account for COVID-19 and social distancing protocols. This made the 2020 Homecoming celebrations the most unique in the school's 60-year-plus history. Here's what went down.
Monday was Media Monday. Students dressed in green and gold. Games were broadcasted on LTV, and the cafeteria was decorated by the freshman in their theme, Latin music. Latin music was played during lunch.
Tuesday was Color Wars. Students got dressed up in their class colors. Freshman wore purple. Sophomores got dressed up in orange. Juniors showed their class pride in blue. Lastly, Seniors conveyed their school spirit in red. 
Sophomores decorated the cafeteria in fun decorations according to their theme, country music. Fun country music was played during lunch.
During F Block, students were called down to the track to participate in color wars. Due to COVID-19 regulations, students were six or more feet apart from each other. Mr. Recinos and Mr. Taggart went by on a golf cart and recorded students throwing their colored powder in the air or at the camera. 
Wednesday was Skit Wednesday. Wednesday was a normal virtual day 3, but with a twist. The class skits were played during F block. 
The Freshman showed off teachers telling them to have fun and have a safe homecoming week. Sophomores showed off their dance moves and had fun singing and dancing all around campus. The junior class revealed their inner rockstar with cool songs and comical appearances from the staff. Lastly, the Seniors exhibited their awesome dance moves while singing along to fun songs like Jenny from the Block by Jennifer Lopez.

Thursday was Royal Thursday. Students expressed their school spirit by wearing green and gold. The Juniors decorated the cafeteria in cool rockstar decorations, to fit their class theme- rock music. During lunch, rock music was played. 
Friday was Color Wars Part 2. Just like on Tuesday, students were called down to the track during F Block. Mr. Recinos and Mr. Taggart drove by on a golf cart and filmed students throwing their class colored powder up in the air or at the camera. 
The cafeteria was decorated in lively decorations from the Seniors class theme, rap music. Music was also played during lunch.
Juniors took the win this year for Homecoming Week with their amazing school spirit!
"My favorite thing about homecoming this year was color wars. I loved that everyone was still able to maintain school spirit even though we weren't able to be as close as we usually are," said sophomore Alessandra Merino. 
Sophmore Ivanna Medellin said, "What I liked most about homecoming was the last day. We all had our homecoming shirts and school spirit. My favorite part was when we threw the powdered paint and we had music."
Even though this homecoming week was different from all the other years, students still enjoyed themselves and had fun. Students made the most of the homecoming week. Homecoming week is a great way to show transfer students and freshmen, how fun and spirited La Salle is.
About the Writer
Olga Cortes, Writer
Olga Cortes is a sophomore at ILS this year and is enrolled in Journalism 1. Olga enjoys sports and is excited for another year in the ILS family.