"Home Alone" Voted Top Christmas Movie by ILS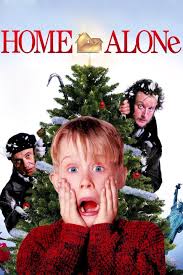 "Home Alone" (1990) won the ILS Royal Courier poll for the Best Christmas movie. There were many options for which ILS thinks is the best Christmas movie, but "Home Alone" came up top by 17 vote margin.
Some of the other options were "It's a Wonderful Life" (1946), "How the Grinch Stole Christmas" (2000), "Elf" (2003) and "Polar Express" (2004).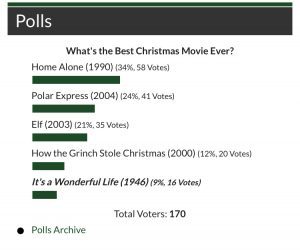 These movies are holiday staples, if you are in the holiday mood, you should most likely watch one of these movies. But coming from the results of the poll, "Home Alone" may be the best Christmas movie to watch, from ILS, during the holidays.
If you haven't seen it already, Netflix has a documentary called "The Movies that Made Us" with an episode specifically about the development of "Home Alone." It's an interesting watch for anyone who's a fan of the film.
But not all seem to think that "Home Alone" is the best Christmas movie. ILS sophomore, Alessandra Merino thinks that " Elf" is the best Christmas movie. It is her favorite holiday movie. 
Some even love Christmas movies that were not on the polls. ILS senior Sofia Farres, favorite Christmas movie is "Love Actually."
"Polar Express" (2004) came in second this year with 41 votes. "Elf" (2003), the Will Ferrell classic, came in third with 35 votes. Jim Carrey's "How the Grinch Stole Christmas" (2000) came in fourth with 20 votes. And the black-and-white classic "It's A Wonderful Life" (1946) came in fifth with just 16 votes.
Nonetheless, if you liked the movies from the poll or not, these movies are holiday classics, and a lot of people watch these amazing movies. These movies are enjoyed by many people. So if you want to get into the Christmas spirit, consider watching "Home Alone" or "Elf," or any other movies from the polls on The Royal Courier.
Make sure to check out the Royal Courier for any new and fun polls. Also for fun and exciting articles!
About the Writer
Olga Cortes, Writer
Olga Cortes is a sophomore at ILS this year and is enrolled in Journalism 1. Olga enjoys sports and is excited for another year in the ILS family.