ILS Girls Basketball Bounce Back with Big Win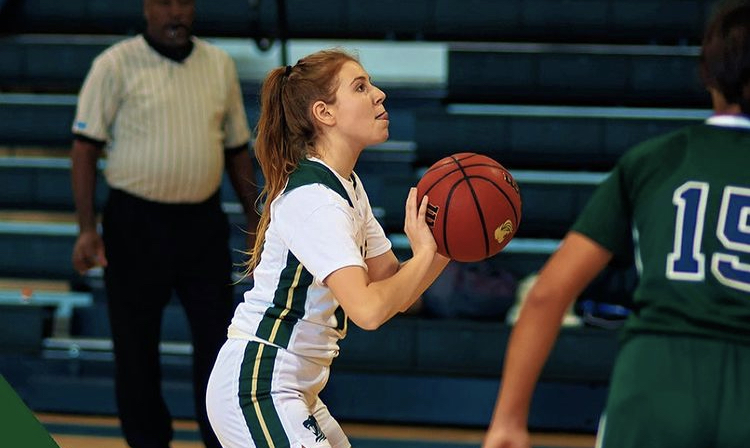 The ILS Girls Basketball team bounced back from a difficult loss to St. Brendan with a convincing victory over iMater Charter. The Lady Royal Lions found their rhythm early and saw scoring contributions from seven different players en route to the 46-38 win.
Sophomore Tiffany Davis had her best performance of the season. She led the team with 13 points, converting 5-of-12 field goal attempts. Davis also pulled down 10 rebounds and registered a pair of steals along the way. This performance set a new career-high point total for Davis, whose previous high was an 8-point effort last season against Franklin Academy. Her 10 rebounds also set a new career-high, and the 13-point, 10-rebound effort stands as the sophomore's first career double-double.
Senior Camila Corvalan continued her impressive play this season with 11 points. She made 4-of-8 shot attempts, including netting 1-of-4 from three-point range. The senior point guard added three assists and three steals to her tally, but she made just 2-of-7 free throws, something she can improve upon.
Corvalan leads the team in scoring through five games with her 9.3 points-per-game average. She also leads the team in assists (2.5 per game) and steals (3.3 per game). Corvalan is one of the team captains and is clearly leading by example.
The Lady Royal Lions also saw solid efforts from sophomore Cary Scheuerle, who scored six points and grabbed a team-high 11 rebounds, and senior Ana Sol, who added six points, three steals and two assists.
"The nucleus of our team is shifting," ILS girls basketball head coach Danny Arguello said recently. "We have four seniors and the rest of our team is compromised of sophomores and freshmen. Our goal for then is to pick up the slack this year and learn as much as they can from the seniors."
The seniors leading the charge are Corvalan and Sol, but the young core on the team is made up of sophomores Mary and Cary Scheuerle, Tiffany Davis, and freshmen Rachel Restrepo and Catherine Barrabes. The future is bright for this team.
The win improved ILS's record to 3-2 and they have one more game before Christmas break. On Thursday, the Lady Royal Lions host Somerset Academy (0-3), a team they beat earlier this season 44-31.