The Newest Senior Privilege: Free Dress Down for the Rest of the Year
On Sunday, January 10, Ms. Colette Varese sent an email to the senior class granting them yet another senior privilege— a free dress down for the rest of the year. Because their graduating year has been disrupted by the pandemic, the class of 2021 welcomes any gesture they are met with to make this year feel special. 
In her email, Varese wrote "…if you would like to dress down for school on campus or virtual learning, you may do so as long as your attire is Catholic School appropriate," and provided a list of clothing students cannot wear. 
While the dress down is not mandatory, many seniors are thrilled to be able to wear what they want to school. Senior Camila Mendoza values comfort and warmth when dressing down. "I think I'll start wearing a lot more sweatshirts," said Mendoza after mentioning how classrooms are "generally cold."  
Others, however, enjoy dressing down but didn't mind mandatory uniforms. Choosing an outfit is a task that some people would rather avoid early in the morning. Seniors Mary Katherine Steward and Pedro Beron-Vera described uniforms as "convenient." 
Other grades still have to wear the standard ILS uniform every day (both virtually and in person). Some underclassmen have expressed that they see this as 'unfair.' "Once they are seniors, they will receive special privileges," said Steward. 
The dress down is another addition to the list of senior privileges such as being dismissed early on day 2Ms, being able to eat lunch by the bay, and being released 15 minutes earlier than the rest of the school. The class of 2021 is extremely appreciative of every effort made to make this year a great one!
About the Writer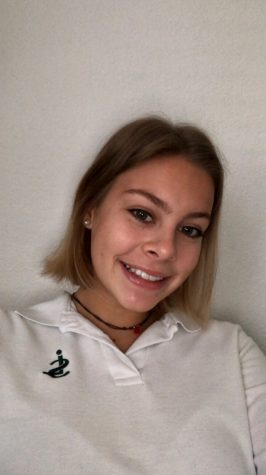 Lauren Fernández, Writer
Lauren Fernández is a senior at ILS this year and is enrolled in Journalism 1. Lauren enjoys reading and writing, and looks forward to contributing to the "Royal Courier."