ILS Cheer Brings Back Another State Championship!
The ILS Varsity Cheer team won their second state championship last weekend at FHSAA States in Lakeland, Florida. 
The previous week they had competed FHSAA Regionals and they bounced back from that performance. The girls worked hard between regionals and states in order to give their best performance. 
"In Regionals, we had never performed in front of a crowd before and we were very nervous. We overcame it in States when we learned to form that nervousness into adrenaline," said senior Camila Casique about the competition experience.
The girls went against two other teams at semifinals and were the one team to pass to finals. The only mistake in their routine at semis was a sign, but minus that everything was perfect. The received a 79.6 on this routine and earned a 30 out of 35 on their cheer despite the mistake. 
Going into finals, they aimed to perform better and get a higher score. The girls pushed themselves the second time around. They were the last team to perform at the competition on Saturday and earned some great commentary from broadcasters. 
At finals, the team went against Monsignor Pace and Terry Parker. The girls won back to back state championships scoring a 83.80 while their competitors scored a 73.10 and 71.60 respectively. Last year the girls had a 4 point difference against Stranaham, now they got a 10 point difference from Pace. 
"States was what made my senior year," said senior Kaitlyn Laurido when asked about her experience at states. 
Similarly, senior Co-captain Ana V. Salazar said: "Once the announcer called second place my heart stopped and I got chills down my body. Then they called first place and I just started to cry and I hugged Sofi (the captain) and told her that we led our team to another victory."
However, all this did not come easily. The team faced many setback with Covid, injuries, and people quitting. If it weren't for their hard work and determination this wouldn't have been possible.
"We were able to overcome this because of the teams work ethic and their constant determination to be the very best," said Cheerleading Head Coach Coral Buxeda.
When asked about this freshman Megan Dominguez said: "Us overcoming all these challenges shows that we truly deserved this title and shows how hard we have worked for it."
They are so proud of their accomplishment and can't wait for what's next. 
"Overall states was a scary and exciting experience and I wouldn't have wanted to do it with any other team. Coming back for a title is mentally and physically hard and we were able to accomplish that," said junior, Ivana Major when discussing states. 
Also sophomore Alexandria Emirzian said, "It was my first states trip and I would just like to say it was so much fun! The states vlogs from last year were one of the main reasons I joined the team and to be a part of such an amazing sisterhood and win with them was awesome."
They are still waiting for the go ahead in order to go to UCA Nationals in Orlando, but if they can't go they will start preparing for their next season. 
About the Writer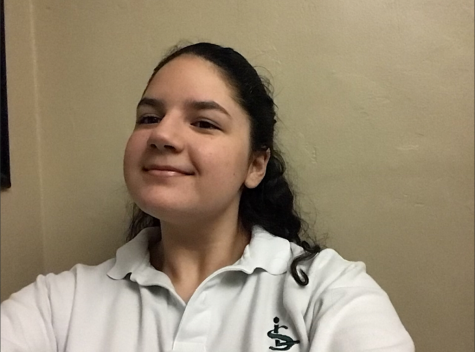 Victoria Betancourt, Writer



Victoria Betancourt is a junior at ILS this year and is enrolled in Journalism 2. Victoria is an ILS cheerleader and enjoys covering the Entertainment section for the Royal Courier.