Don Bosco Day Recap
This past Friday, January 29th, ILS had Don Bosco day and seniors had the opportunity to go to campus to enjoy the day with their friends and celebrate Don Bosco day.
The day started off by seniors going to their F blocks for attendance. They then later got called to go to the student youth center in the back of the school for Zumba dance classes.
Students who didn't want to stay in Zumba had to option of going to the field to play different games or just sit down and talk to their friends.
Senior Oriana Davila thinks even though everyone had to wear masks it was a chance for the class of 2021 be reunited.
"I thought today was super fun I'm so glad I came the seniors that didn't come missed a great opportunity to be reunited as a class," said Davila.
After the seniors were outside at around 10:30am they all got called to go to the main field in front of the school for mass which this year had to be outside for everyone to practice social distance.
Senior Raul Rodriguez thinks Don Bosco day was fun the only bad part was mass being outside.
"Today was fun except for mass being outside because it was so hot I think everyone was melting," he said.
This year due to COVID there wasn't those little food stands with different types of food so students each got a bag with chicken patty and other snacks and a donut.
When mass was over seniors got called down by the row they were sitting in to get their bag of food and their salty donut.
Senior Raul Rodriguez thinks it was a better idea to give out food in bags since it's more hygienic.
"Well last year we had way more food but I thought this year was actually more hygienic the way they gave us our food in bags, last year we also had mass in the gym, and we had fun games," said Rodriguez.
When asked what was the best part of Don Bosco day senior Victoria Herian said she was most thankful to have seen her classmates and teachers.
"My favorite part of today was seeing my friends and teachers I hadn't seen in a while and I'm so thankful for that because I don't know when the next time is going to be that's we're all reunited," said Herian.
Senior Carla Valdano said her favorite part was being with her friends in F block since it reminds her of class last year.
"My favorite part of today was being reunited with my friends and being in F block because it reminded me of when things were normal last year," she said.
Seniors had a good time and enjoyed seeing their classmates and ILS staff hopefully next year ILS will be able to throw a Don Bosco day with all grades on campus.
About the Writer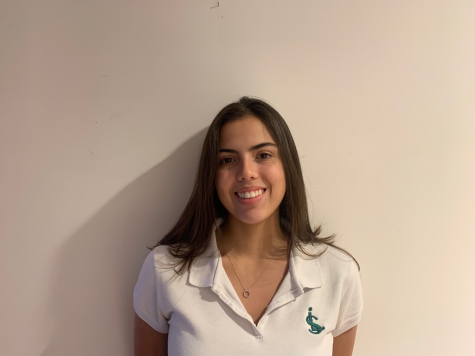 Marjorie Amaral, Editor



Marjorie Amaral is a senior at ILS this year and is enrolled in Journalism 3. Marjorie enjoys covering the Entertainment beat and Campus Life.