How to Have a Covid Safe Valentine's Day
With Valentine's Day right around the corner, many people are planning to celebrate with their significant others, friends, or both. Because the pandemic is still prevalent in Miami— and worsening for that matter— it's important to consider different ways to celebrate safely. 
Luckily, February in Miami is cool and beautiful, so outdoor activities are accessible and enjoyable. Senior Giulia Spagnolo, when talking about how she plans to see her date for Valentine's Day, said "we do a lot of outdoor activities and get tested regularly." 
Another senior at La Salle, Arianne Lopez del Rincon, plans on "bringing [her boyfriend] some ice cream and a card as a little surprise," and spending some time together at a park, walking around, and maybe stopping for a milkshake at Wayside Market or getting boba tea. 
Miami offers so many opportunities to have fun outdoors, and now more than ever, it's a good idea to explore those options. Dates this year don't have to be confined to a Zoom call, but do require just a tad bit more planning to ensure safety! 
"Friend dates" have become more popular, and February 14th is the perfect day to show your guys and gals how much you love them. Picnics have become trendy and popular again, and are Covid safe too! 
When reflecting on how she's been staying connected with friends, Senior Camyle Pliopa said, "I've been obsessed with friend picnics lately since I feel like it's a time to wind down from any stress and truly enjoy your time with your friends." 
Picnics are easy to customize to your own liking, as well. You can bring canvases and paints, a board game, a book and a music speaker, or even just sticking to yummy treats. Senior Emily Barquin plans on spending this Valentine's Day with her two best friends outdoors. She said, "we are planning to have a picnic on the beach and watch the sunset. We're going to dress up, take pictures, bake a cake, and enjoy our time together." 
While spending the holiday centered around love and affection is not ideal during a pandemic, it's not difficult to have a great time celebrating, and being safe while doing so. "These moments are what make this year easier to get through," reminds Lopez del Rincon. 
Have a fun and safe February 14th, Royal Lions! 
About the Writer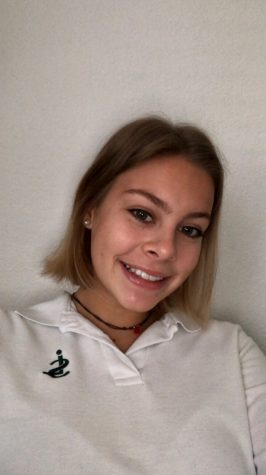 Lauren Fernández, Writer
Lauren Fernández is a senior at ILS this year and is enrolled in Journalism 1. Lauren enjoys reading and writing, and looks forward to contributing to the "Royal Courier."