NFL hosts 'Tiktok Tailgate'
 This year Super Bowl IV began with a pre-show concert by Miley Cyrus at the NFL Tiktok Tailgate being live streamed on NFL's Tiktok account.
Super Bowl Sunday opened up with a pre-show concert by Miley Cyrus. This year it was live streamed due to the pandemic and its restrictions.
With Tiktok being a huge hit this year, especially with the pandemic, Tiktok was the sponsor of the concert as it was live streamed through the app for all users to see. 
"It was a great idea to have this concert live streamed through Tiktok because we are on this app almost 24/7 so this gives them more viewers," said senior Isabella Guardazzi.
Cyrus kicked off Super Bowl Sunday singing her new and old hits such as "Party in the USA," "Wrecking Ball," and "The Climb." She also brought out both Joan Jett and Billy Idol for joint performances. 
But, Cyrus has an emotional moment while singing "Wrecking Ball," she couldn't get through the song. She began this breakup song emotionally and midway through admitted that it "never gets easier." 
As she continued to sing she broke down and struggled to jump back into it. She was then able to compose herself and end the song while thanking her fans for all the support. 
"Clearly she isn't completely over her breakup because she wasn't even able to get past this song which is one of her biggest hits," said Carla Valdano. " It was very hard for her to even get past the whole song so there is a meaning behind this performance," she added.
After her emotional performance, Cyrus went on to say that "Wrecking Ball" is "about feeling completely broken and shattered." "I wear a lot of glitter and I wear a lot of armor, but I also wear my heart on my sleeve, and it gets broken a lot," she continued.
With that, she concluded her performace with "The a Climb," which is about "never giving up and never giving in." She ended it by telling the crowd she was thankful for them.
This concert was primarily for the vaccinated healthcare workers that were invited to the game by the NFL as a thank you for all their help in battling COVID-19.
About the Writer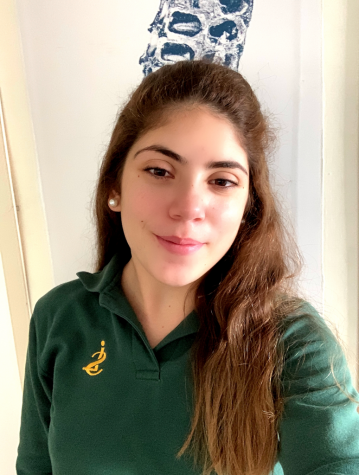 Camilla Diez, Editor



Camilla Diez is a senior at ILS this and year and is enrolled in Journalism 2. She enjoys writing about and covering the entertainment beat. Camilla would like to pursue journalism/communications...