Kamala Harris and Douglas Emhoff Defying Political and Gender Norms
Vice President Kamala Harris and Second Gentleman Douglas Emhoff have accomplished many 'firsts' since the election. Not only is Harris the first woman to be Vice President, but she is also a woman of color. Douglas Emhoff, her husband, is the first ever Second Gentleman. Their norm-defying dynamic is a source of inspiration for many— including some here at ILS. 
ILS's own Mr. Juan Carlos Moya noted that "the U.S. is a little behind the times," in that many countries have already had women in high political power before. The U.K.'s Margaret Thatcher in the 1980s, Germany's Angela Merkel, and many others— Harris being the latest addition to the list. 
Their relationship goes against societal gender norms in terms of who is seen as 'fit' for a position of power (historically). Emhoff, being the man in the relationship, is overshadowed by his wife, breaking past trends and laying the foundation for a new wave of progressivism. 
"Honestly, hearing someone say "Second Gentleman of the United States," is relieving in some way," said senior Camila Mendoza. Mendoza continued by saying, "[i]t's the first time I've ever heard of a man being the supporting role of the career of a lead politician." 
Another senior, Charlize Ramos, added, "it is thought that higher positions of power are reserved for males, and it sometimes feels like women don't get the same respect." Ramos continued by observing that, "at La Salle, it's always girls who hold the position of president at the school, and I think we should translate that to the outside world."
Both Mendoza and Ramos are aspiring politicians, and Vice President Harris' groundbreaking nature has catalyzed this passion even further. Seeing a woman make it so far, even with all odds against her as a woman of color, engenders a kind of hope for young women that wasn't seen before. 
Mendoza plans to study International Affairs, and work her way from interning at a district attorney's office, to being governor, senator, and potentially president. Being surrounded by politics her entire life, she's developed a go-getter attitude, and knows that working in government will allow her to enact the change she wants to see. 
Ramos, after taking AP Government and Politics and immersing herself in the stir of the 2020 election, is drawn to a career in law and potentially running as a district representative. As student body president, she has experience with leadership, and feels comfortable taking on such roles. 
While gender norms are still prevalent in government (as seen in Congress with only 119 women out of 435 representatives), 2021 is fostering a much needed shift from outdated tradition. 
Harris and Emhoff's relationship and standing in government marks the beginning of what will likely be an influx of confident women breaking free from the chains of a stereotype-driven principle. Hopefully, this wave begins with the young women here at La Salle. 
About the Writer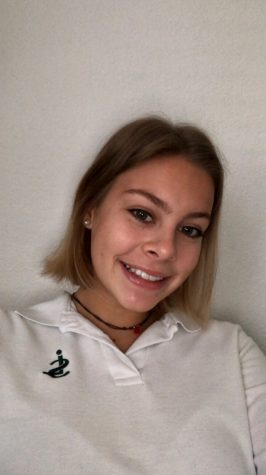 Lauren Fernández, Writer
Lauren Fernández is a senior at ILS this year and is enrolled in Journalism 1. Lauren enjoys reading and writing, and looks forward to contributing to the "Royal Courier."