ILS Track & Field On The Road To Districts
The ILS Track and Field team is one meet closer to competing at districts for the first time in over a year, due to COVID-19. 
Immaculata-La Salle's track and field team competed in the Big Blue Meet at Archbishop McCarthy this past Wednesday, March 17th. The girls team walked away with third place, while the boys finished in fourth out of seven teams.
For the ILS team, this meet was nothing short of impressive. Many runners made their personal bests this meet which helped the team place better. 
Sophomore Alfonsina Santucho is ILS's first female javelin thrower. Santucho was one out of a few other girls that were able to earn a new PR (personal record) this meet. Santucho finished in 3rd with a throw of 26'2".
"This meet I was very satisfied with the outcome of all of my hard work and practice," Santucho said. "I landed myself in 3rd place while also PR on both javelin and shot put." 
Although satisfied with this meet, Santucho also stated that until she ends up at states, won't stop pushing for new records.
Sophomore Alessia Quiros was not one that was able to "PR" (personal record) at this meet. Quiros ran the girls 1600 meter run at 6:17:05. Quiros is looking forward to getting better and better during these last few races. Her goal for the reasons is the hit PRs and be the next school record holder for the 4-by-800.
As for the boys, ILS's 4×100-meter relay team—senior Sebastian Giugovaz,  junior Jude Servius, junior Joshua Pina and junior James Brill—got third place. With a time of 44.50, the boys have continued to be consistent with their times.
Luis Bodden came in third in the Javelin with a throw of 91' 6". He also finished second in Discus, 104 and second in Shot Put with a throw of 39' 7". Senior Maximus Betancourt came in second in the 800 meter dash. 
ILS sprinters also dominated the 200-meter dash, with Giugovaz (22.69 seconds), Servius (22.72 seconds) and Brill (24.29) taking places third through fifth out of 56 runners.
"At this meet I feel I didn't perform to the fullest of my potential. I ran my first race well but I could have done better in my second. This meet frustrated me, but it served as a good learning lesson to strive harder for my goals," Giugovaz said.
Senior Victoria Morera won the 800 meters (2:34) race and freshman Emilie Reyes won the Long Jump, jumping at 14' 11". Sophomore Carolina Juara finished third in Long Jump with a jump of 13' 6".
The 4-x-100 finished in third with a time of 53.36 and was run by Carly Costaregni, Emilie, Eugenia Paris and Hanah Gonzalez. Hanah also finished 3rd in the 200 meters with a time of 28.12. 
The Track and Field team still has time to meet their goals as their last meet before Districts will be March 25th at Coral Gables against Gables, Ransom, and Carrollton.
About the Writer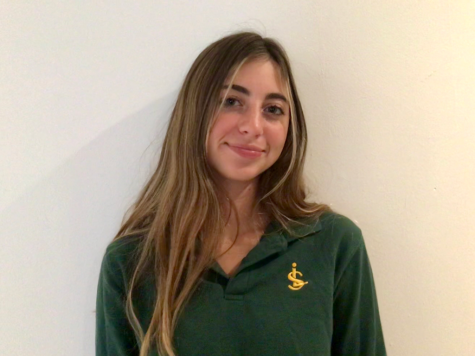 Holland Ramos, Writer
Holland Ramos is a sophomore at ILS this year and is currently enrolled in Journalism 1. Holland enjoys listening to all types of music and is interested in pop culture.