ILS Swim Team: Crossing the Finish Line
Swimmers at rival Belen put their goggles on tight for the ILS swim team's arrival to their waters September 15.
"The team did really well and had some great individual accomplishments,"
said Coach Gutierrez.
"Some of the athletes still need some improvements but we still did well in the meet."
Here are some of the finishes: Freshmen Rachel Larralde obtained second place in the 100 Breaststroke while Marcella Orlandini obtained first place in the 50 Freestyle. Junior Pablo Lopez Franco obtained a second place in the 100 Backstroke.
Overall, the swim team has started off the year right with a few successful wins with more meets to come, more wins to accomplish.
A winning splash emerged as the ILS swim team traveled to compete against Gulliver on deck for a swim meet September 9.
The swim meet consisted of freestyle, butterflies, breaststrokes, backstrokes, and freestyle relays. Results show that Pablo Lopez Franco placed first in the 200M IM. Along with freshman Klaus Bachman who also placed first in the boys 50M freestyle and the 100M freestyle.
To get a better insight on the team itself, junior Juliana Lujan-Rodriguez  has some thoughts.
How did you prepare for this swim meet?
"As a team, we sadly could not prepare or practice for any of the swim meets that we are competing in together. It's really hard finding a pool out there, and sadly we weren't lucky enough finding one that was open to practice together. However, my sister and I go to this public pool close to our house and practice whenever we can so we don't get worn out."
How did you feel before the meet? After?
"Before the meet I was a little bit scared because Gulliver has a really big and competitive swim team. I was really sad that I haven't practiced enough, but at the same time I knew that at the end, it's for fun. After the meet I honestly felt embarrassed. Still, I'm proud that I swam through the meet successfully."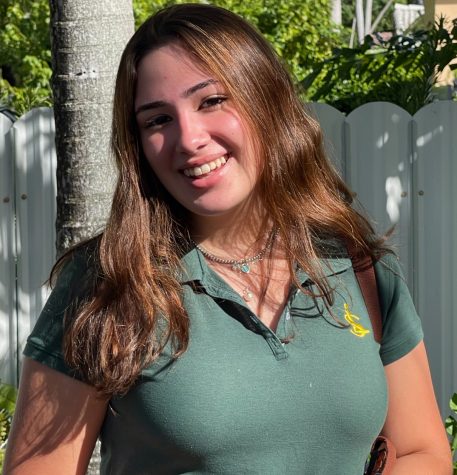 Why do you enjoy swimming?
"I've done swimming since I was little, and I got it from my dad. My dad was one of the greatest swimmers in the state during his time, and he taught my sister and me when we were little. We eventually joined a club, and now at ILS we have joined the team. I have been swimming for about eight years."
"We won just a couple of events. You can say that we are building a strong team based on the potential of each competitor," said Coach Omar Gutierrez.