The Lionettes Showcase: Prepared for Dance Battle!
Where do I even start? As a former Lionette, I was very excited to attend their first showcase in two years. The showcase is all about demonstrating the dancers' parents, teachers, staff, students, etc. what they have been working on these past couple of months with competition coming up. This wonderful event took place on the shiny wooden floor of the ILS gym, the Lion's Den. You pay for your ticket and are introduced to the bright, harsh white lighting of the gym as parents and siblings take up the stands. Among the crowd, I spotted some familiar faces; these were alumni and former Lionettes who I had the pleasure of reuniting with once again with Isabella Clarke (class of 2021), Sofia Sonntag (class of 2021), Priscilla Heredia (class of 2020), and Phoebe Suarez (class of 2021). We were all brought back here for the same reason: to support the team that marked a special place in our hearts and a family we feel a strong connection to.
Soon, the fun pop music that had set the mood slowly came to a stop as a presenter stepped forward towards the middle of the gym floor to introduce the dance team. After recognizing the girls' efforts, Coach Esther Pazos' determination, and the unconditional support from loved ones, the showcase began. The Lionettes took to the stage with their black and green neck tops with the letters "ILS" displayed prominently across their chests accompanied by classic black leggings and cool black Nike sneakers. They presented the reggaeton-filled Feria Latina performance as they jumped and snapped to the music. Soon after, we enjoyed two new hip-hop dances first with "Soldier" that gave off a more determined feel to the dance while the following "Coming in Hot" gave off a sassy and energizing choreography. As the hip-hop dances were ending with the memorable 2021 Homecoming performance, the audience was asked to not photograph or record the following competition dances to avoid plagiarism. Basically, I was tasked to put my description skills to the test and paid attention to as many details as I could so if you want to see it for yourself, I suggest cheering them on at their upcoming competition "Dance Team Union" January 16.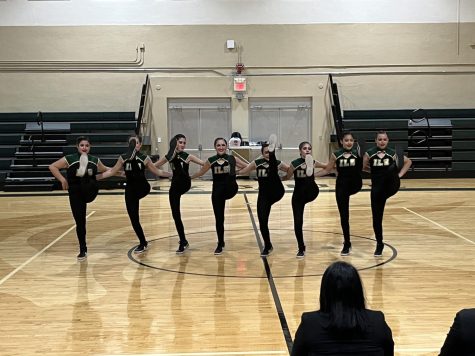 From a fun and upbeat atmosphere, junior Isabella Lavista and senior Melanie Mendez completely switch the mood of the place as they proceed to their spots in navy bedazzled bodysuits followed by transparent silk flowing down their legs. They begin their contemporary live duet with the emotional song of "Hallelujah" playing over the speakers. Showing off their skills from eight pirouettes, fish rolls, mid-air splits, what stuck out the most was the facial expression of anguish, hurt, and emotion. Isabella and Melanie finish off their dance with their hands interlocking and walking towards the audience as the last hallelujah echoes in the gym. "This dance is dedicated to our grandparents who are no longer with us," said Mendez when asked about her favorite dance. They successfully transmitted the emotion of sadness, anger, and consolation as they had each other throughout the entire piece. These two have shown how much they've grown as they have been a part of the dance team for three to four years and have set the standard for the following dances. 
Starting off with freshman Alexis Lamazares in her contemporary solo to the song "Hold Onto Me" by Lauren Daigle, she  showed what the new members were all about and the passion they have for what they do. Personally, I was very impressed by the capabilities she showed from doing calypsos to leg grab holds in her red and black velvet sequin outfit but most of all amazing facials.  "I feel more prepared for DTU", mentioned Alexis after the showcase." It goes to show that the future of the Lionettes could be very bright.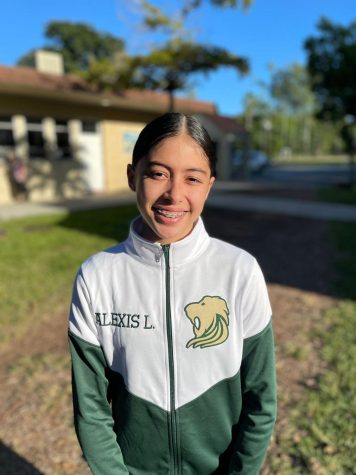 Next, we have freshman Natalie Martinez performing a jazz solo to "Knock On Wood" that gave a nice twist to the afternoon. Although it is important to connect to emotionality, it's also nice seeing the range of dance where you can also have fun and this dance was definitely fun. From shimmies to hip-swaying, Natalia gave it her all in her golf and glittery outfit making the audience feel they were back in the Great Gatsby times.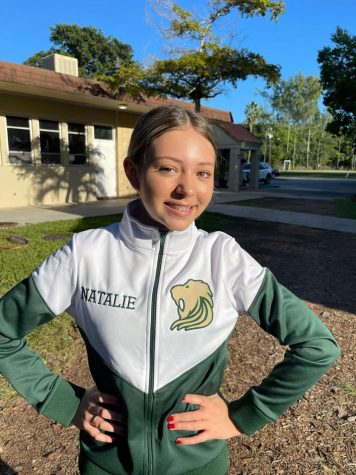 After a jazzy tune, Lavista enters the stage once again with an emotional and empowering song, "Never Enough" by Loren Allred from The Greatest Showman. Her red silky skirt on her bedazzled bodysuit followed her as she gracefully moved across the stage. She hit every beat yet gracefully moved on to her jump and multiple pirouettes. This performance actually gave me chills running up my legs as the song was booming in the speakers. I saw, first hand, how Lavista carried herself throughout the stage time and time again as one of the dancers with the most dances but her perseverance shines through, "When I am dancing, out of breath and only have one dance left, I push through and perform my last number with as much energy as I can," said Lavista about her continuous performances. She definitely made that powerful emotion come through her dance.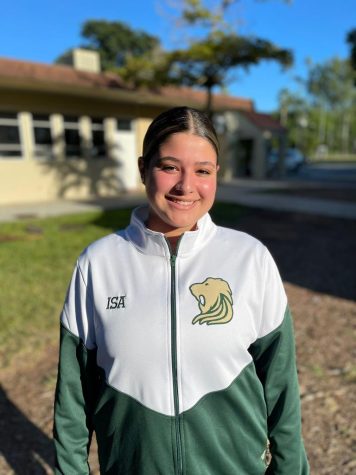 Not so far off, Melanie showed off her solo in black velvet and bedazzled bodysuit that evoked a different emotion; anger, hunger, power, and determination. As opposed to Lavista, you could feel every strong step Melanie took and her facials were actively powerful. In between calypsos, pirouettes, and toe rises, what impacted me the most was how Melanie started off kneeling down and as soon as the music started, raised her face slowly to the audience with her game face on. It set the mood for her entire dance and although her music had some technical difficulties, she ever faltered and continued on.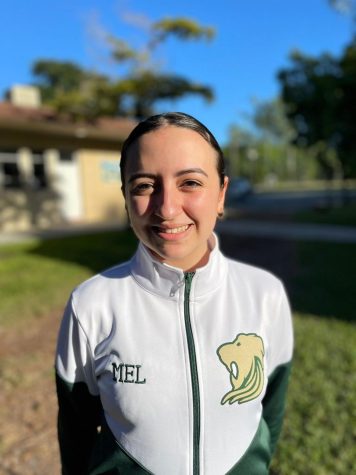 The solos have ended and the pressure is on for the group dances as we are introduced to three judges joining us for the afternoon: Gwen, worked in pacific ballet theater; Laura, has been dancing with Coach Esther since they were 16 and has been a part of the New Century Dance Company, and finally, Natalie who is a coach for young dancers, has participated in music videos for CNCO and is training to be a sports physical therapist. They were there to give professional constructive criticism for the team to be ready for what was to come in the competitions. 
In comes sophomore Andrea De Armas, sophomore Isabella Brand, Alexis Lamazares,  junior Isabella Lavista, and senior Melanie Mendez dressed in a black and white work suit and tie. The dance is named "High Low" with powerful and synchronized dancing that goes with the formal and serious attire that sets the mood for discipline. Finally, they close out the afternoon with their group contemporary piece "Oceans" in beautiful turquoise bodysuits and a tulle skirt trail with an ocean-like design. When asked what the hardest dance they had for competition, all the dancers including Coach Esther answered with "Oceans" because it's the most meaningful and emotional piece they are all showcasing with the goal to leave the crowd and judges impacted; that is just what they did as many in the crowd teared up as they form one last formation holding their hands to their chest.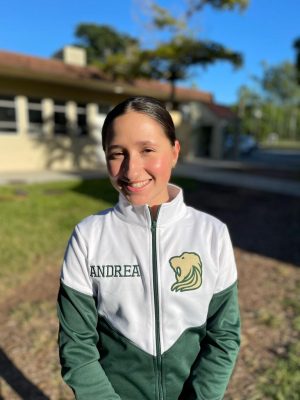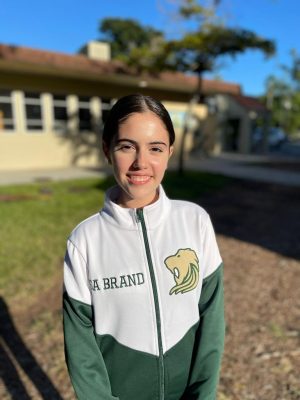 The crowd clapped in awe and Sr. Kim took to the stage congratulating the team on their "ability to dance the way they did with the most beautiful music." It's safe to say they left a huge impression and this is no coincidence since the last performance was meant to do that. "This dance has a special place in my heart. The song, the story behind the dance, and the fact that we are taking a worship song/dance to a National competition, not only scares me but is also so exciting for me to see the Lionettes be different and be bold," said Coach Esther on the dances she is most excited to present. 
The showcase came to an end full of proud parents with flowers and hugs. Alumni and I were able to catch up and reminisce about the beautiful memories we created together that the showcase evoked. A big congratulations to all the girls who I know are giving it their all in 4-hour practices and are headed to a long day of dancing January 16, so I only wish you luck and a few words from your Coach: "[You girls] are already winners and no trophy is needed for proof. Go out and perform like you've never lost and be so proud of your own outcome, win, lose or draw. I believe in [you]… oh and 'Don't forget to pointe your feet''"