Trending Movie ANTOjitos : Spider-Man No Way Home
 Since early December, wherever you turned, Spider-Man was there. Whether it's on someone's phone, someone's mouth, someone's computer, or someone's choice of clothing. 
The movie, Spider-Man: No Way Home, truly serves as a reminder of why people loved comic books, especially the ones about a young high school boy named Peter Parker. It was filled with playful and funny  unpredictability mixed with a dash of mystery  that is found sometimes lacking in modern superheroes. However, yes, without a doubt, No Way Home stands out  amazingly in its marketing and propaganda, their specialty in making more headlines. 
After Marvel killed off a large chunk of its main characters in phase 3,  fans were less excited for a new movie. However, if there's one thing this movie was not, was boring. It overflowed in creative energy and nostalgic feels. The teaser alone got over 70 million views in less than three hours. How did they do this? The producers decided to bring back the only thing that could make Gen Z happy during a pandemic, revisiting their childhood.
After the teaser was let out four months ago, an official trailer came out two months ago which rocked the world's cradle. Well known MCU character, Dr Strange has an important part in the movie as well as none other than old Spidermen villains from each one of the three Peter Parker's. It was this that added the much needed pizzaz.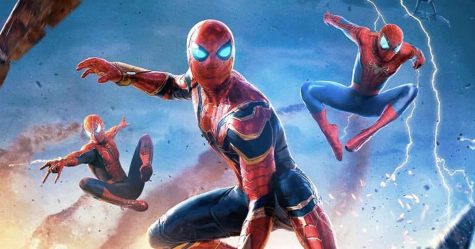 After being #1 in theaters for over a month, Spider-Man: No Way Home dropped to #2 after  last weekend's decent debut of Scream, but could return to #1 considering its social media exposure. With the attractive actors and enticing plot, Spider-Man NWH, became a trending topic very quickly. To watch the movie, a three-week early ticket would've been necessary. No spots were available at any theater for at least the three days after its release. 
Spider-Man: No Way Home could have just been a way for the MCU to blend all the versions. While some people will see it like this,  there are others who think there's more going on here. It truly represents what these  historic heroes and villains mean to the viewers. It's about why the viewers care so much, and why they became so emotionally invested all these years. Above any other film in the MCU , this one was one for the books. It broke box office history and reached skyscraper heights on the records. Most importantly, it made everyone want to dig out the old box of comic books and rewatch the whole series. That itself, can be considered heroic.