HoCo Preview for Seniors
LTV
During Homecoming, taking place from October 21 to October 25, the ILS community will be dressing up and participating in activities the entirety of the week. 
On Monday, October 21, the seniors are to come dressed in red, wearing their Color Wars shirt, if ordered, and their senior crowns.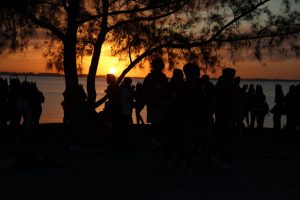 That morning they will be participating in the Senior Sunrise, where seniors arrive to school at 7am and watch the sunrise in the bay parking lot. 
Color Wars will take place on Monday as well. Seniors will be competing with the other grades, participating in activities and games. After school, the student body will have the option to stay and participate in La Salle in Color, where the grades will be throwing colored powder at each other.
On Tuesday, October 22, the ILS community will come to school either twinning with a friend or twinning with their grade. Seniors are to dress up as senior citizens.
Theme day will take place on Wednesday, October 23. The senior's theme is Avengers: Endgame. Seniors are to show up to school dressed in all-things Marvel. On this day, there will be an assembly at the gym, where each grade will perform their class skit. Senior Jacques Calixte is currently planning the senior class skit. 
Thursday, October 24, is tacky day. The ILS community will be wearing anything and everything that is considered tacky. 
On Friday, October 25, it's Green and Gold day. The schools first pep-rally will take place, and the student body will come to school decked out in green and gold. Seniors are to wear their senior crowns. 
Later that day, at 7pm, the Homecoming Football game will occur at ILS. After the game will be the Homecoming dance: A Night At The Oscars.