Going Beyond Sports Psychology: What It Takes to be an Athlete
"
"We teach students how to manage their emotions when playing their sport""
— Mr. Andres Saladrigas
Having everything to do with psychological knowledge and skills to address the stability of an athlete, Sports Psychology is one of the many classes ILS has to offer to juniors and seniors.
This elective is taught by Mr. Andres Saladrigas, also a volleyball coach in the ILS volleyball program. In simple words, he says Sports Psychology has to do with creating a foundation to teach skills that have to do with the mental aspect of sports.
"From visualization, imagery, creating confidence, positive thinking, everyday skills that translate into your sport are touched in this class," said Mr. Saladrigas.
His goal is to teach students how to manage their emotions and overcome adversity on the field and off the field.
After asking him what he enjoys the most about the class, he said, "We hold a lot of conversations and we see different viewpoints, experiences and everyday life of students in the class."
He also mentioned that since his class has such diversity in sports, football players talk about their mentality while volleyball players share their points of view.
Junior Miranda Grande, senior Ana Karina Blavia and senior Lucas Franco offered their thoughts on the class experience.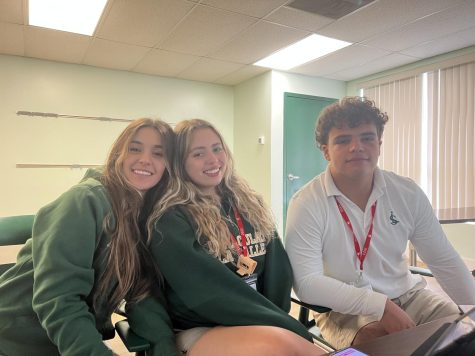 Miranda, who plays on the volleyball team, enjoys the class so much because she has learned skills to stay positive throughout her games.
"This class has taught me how to develop mental skills that strengthen my mindset as an athlete. I know that some days might not be perfect, but having a strong mentality is essential," she said.
She also mentioned how this class has certainly turned her into a better athlete by keeping her engaged with the sport she loves.
In addition, senior Karina, also a volleyball player said,"I've learned to change my mindset on and off the court. I've stopped thinking so negatively about myself and try to push myself to do better."
As a student, her perspective on Sports Psychology is managing her feelings and emotions because all of that ends up affecting not just a person, but the whole team in general.
From a football player's perspective, Franco, mentioned how he's learned to manage his teammates and himself.
"As a whole unit we've become more united, instead of separate." He explained how this class helps an athlete develop confidence in their abilities instead of keeping a negative mentality.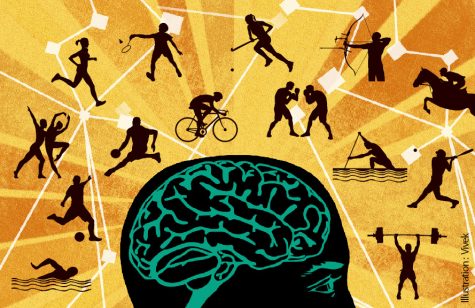 Mr. Saladrigas mentioned a very important aspect of teaching this class.
What do you need in order to be labeled as a sports psychologist?
Currently, Mr. Saladrigas is in the works of getting a master in performance psychology.
"When it comes to schooling, you need to have a bachelor in psychology and you would have to pursue a master either in sports psychology or performance psychology. You also need certification to become a mental performance consultant."
Mr. Saladrigas added that the biggest thing in this class is teaching students how to think and giving them more perspective.
"Seeing the possible routes you can take to solving a problem are the biggest factors when taking the class."
If you have interests in both psychology and sports, this is the class for you. Get ready to have engaging conversations and deep analysis on what it takes to be a mentally strong athlete.