Angel Tree- Changing Lives
From December 4 through December 16, the ILS community has donated what looks to be around 800 Christmas toys for the children living in poverty all around the world through the process of Angel Tree— an annual event organized by SALTT and Key club members.
Ms. De La Guardia is one of the main people in charge of Angel Tree; she will be going to Nicaragua herself to deliver some of these donations. She informed the Royal Courier that 400 of these Angel tree donations will go to migrant children, 100 will go to the kids in the Bahamas, 100 will go to children in shelters, and 200 are going to feed children in third world countries. 
Ms. D went on to explain the living conditions for these children all around the world— starting with the migrant children. 
"So, the migrant kids live in physical poverty. Poverty that you can see. Let's say you go visit them at their house, you think that you're going to just their house, but you're not. You're going to a house that has, let's say, 3 bedrooms and in each bedroom there's a different family, so they're all crammed into that one room. The living room is usually very empty—maybe there's a bed— because at night, people who don't have families but need a place to live will rent a piece of that floor."
She moves on to explain the intensity of the poverty in Nicaragua, poverty much worse than here in the United States. Nicaragua and Haiti compete for the title as poorest nation in this part of the world. 
"The kids who we work with in Nicaragua, those who their parents cant afford to take care of them or if they're being sexually abused at home are taken in by the sisters. The sisters have a residence for girls who need to be taken out of their homes either because of poverty or because of the sexual abuse. And then many of the kids just they live on the street, and because they live on the street getting a real meal is is always a struggle. So the sisters give them breakfast and lunch every day—but many of them don't eat at night."
Ms. D explained that the children currently living in immigration shelters will not only stay there for Christmas, but have a great possibility of never seeing their families again. It was recently discovered that they will be putting most, if not all, of these kids into the adoption system, never to see they're parents again. 
It is important that the ILS community works hard to even slightly improve the life of these children, and Angel Tree allows these children a sliver of hope in humanity. 
Ms. Roman- Gonzalez emphasizes the importance of uniting as a front for these children. 
"It's about realizing that we are all connected, and that we are part of one body, one community." 
About the Writer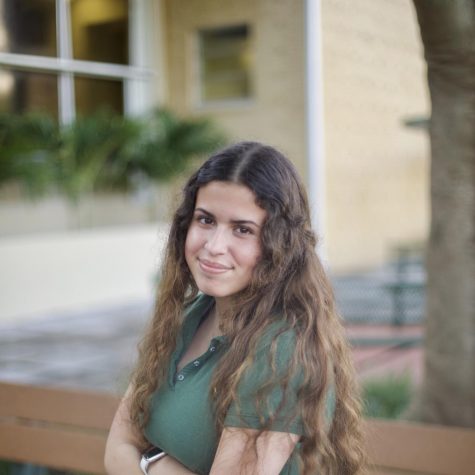 Dominique Gonzalez, Writer
Dominique Gonzalez is a senior is ILS who is enrolled in Journalism 1. Dominique enjoys reading and participating in school clubs, such as ambassadors and HOSA.