ILS Steam Summer Internship Opportunity
Last Wednesday, the ILS Steam program hosted representatives from the University of Miami and the JJ Vance Memorial Summer Internship here in the SLC. The representatives pitched to the ILS Steam students the opportunity to participate in this prestigious internship.
University of Miami and the JJ Vance Memorial Summer Internship is an 8-week paid internship that the juniors in the ILS STEAM health track will get to apply to. This is a very limited, internship with only 11 students from around the world being accepted.
The JJ Vance Memorial Summer Internship in the Biological and Computational sciences is a paid summer program awarded to outstanding juniors in good standing from Miami and Broward-area high schools.The recipients of the internship will participate in an exciting, and challenging, eight week research course at the University of Miami Miller School of Medicine.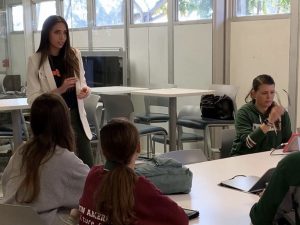 During the internship, the students will be paired up with one other faculty member and work alongside them either in a wet lab, where they will be dealing with some of the most high-tech equipment. This equipment is used to splice and possibly detect differences in genes and DNA that could relate to different causes of a certain disease or computational science. Interns will analyze data to help with possibly finding cures to different diseases.
At the end of their 8-week course, interns will have to give an oral presentation explaining what they were able to achieve through the 8-week course. Over all, this is an incredible opportunity for students to gain first hand experience in a lab situation, one that not many people at their age will be able to.
Summer 2020 applications opened on January 1, 2020. Deadline for the applications is February 28th at 5 PM. For those being considered, interview invitations will be extended between March 23rd and the 27th. Interviews for the internship will take place the week of April 6th to the 13th. The final offers for the internship will be made on April 20th. The internship itself begins on June 15th.
ILS Alumni Erika Negro, Class of 2012, has been working in this program. She shared her experiences with current ILS Steam students.