ILS Lands Five Players on All-Dade Teams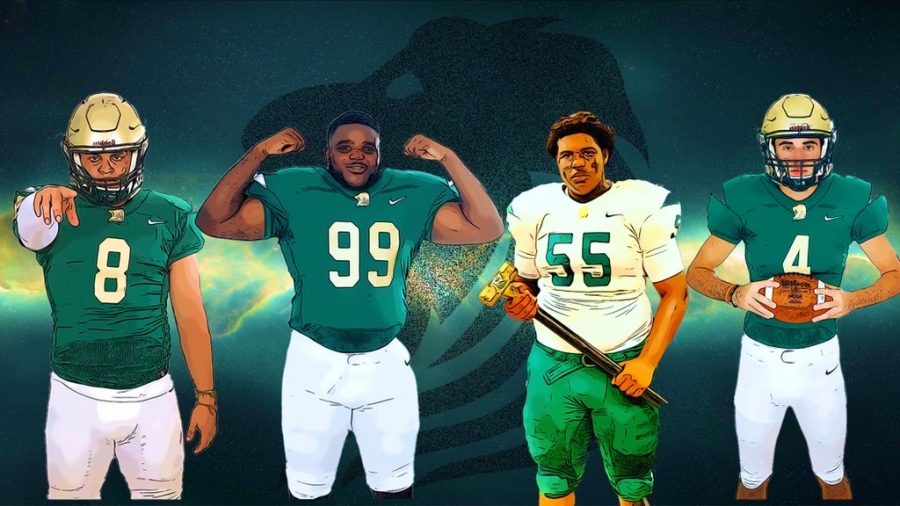 Last week, the Miami Herald released it's All-County teams for the 2019 football season. The Herald separates the post-season awards teams into two basic divisions, 8A-6A and 5A-2A. Each grouping has First Team, Second Team, Third Team and Honorable Mention selections. The 8A-6A schools are the biggest schools in the country. Immaculata-La Salle falls into the 5A-2A category based on the school's enrollment.
The 2019 ILS football team had an up-and-down season, but there were clearly talented players on the field for the Royal Lions. ILS closed the year 4-6. They started 2019 with dominant victories over Marathon high school and Coral Shores, shutting out both teams.
After a string of tough losses, the Royal Lion's best win might have been the come-from-behind thriller versus Pembroke Pines Charter. ILS pulled off a 33-26 victory, with senior quarterback Francis Coronado connecting with junior Kiondre Glinton on the game-winning touchdown.
The team finished the 2019 season with a dominant 35-0 victory over Citi Christian Academy. And during these victories, several ILS players showed out.
The Herald awarded a Second Team distinctions to two of ILS's players.
Senior defensive lineman Lafonzo Ruffin was a dominant force throughout the season. He was second on the team in total tackles with 47, including a team-leading 18.0 tackles-for-loss. Ruffin was second on the team in sacks, with 12.0. Opposing teams had to constantly double teamed Ruffin at the point of attack. He was a disruptive force all season long. Ruffin registered one forced fumble and one fumble recovery, and his 60-yard interception return helped spark ILS's comeback victory versus Pines Charter.
Sophomore Luis Bodden was named to the All-Dade second team on the offensive side of the ball. Bodden was a solid offensive lineman. He was a reliable and stout blocker along the line and helped open holes for the team's running backs. Bodden also played a role on defense, appearing there in four games, picking up 13 tackles and one sack.
ILS also saw three players land on the Honorable Mention team.
Senior Zachary Barrios earned his spot after playing a key role in the offense. Barrios hauled in a a team-leading 26 receptions for 365 and a team-leading five touchdowns. Barrios had great hands and often contributed as a blocker on he outside. He helped spring a number of long runs for the team with this blocking.
Senior Dominique Vidal also earned his spot among the Honorable Mention group. Vidal lead the team with 53 tackles, including 12.5 tackles-for-loss. He also lead the team in sacks, with 15.5. Vidal was a vocal team leader as well.
The third player to earn Honorable Mention was all-purpose athlete junior Kiondre Glinton. He played running back, receiver and defensive back throughout the season for the Royal Lions.
Despite losing Ruffin, Barrios and Vidal, the future looks bright for the ILS football team and head coach Helder Valle.