Seniors Ivette Acosta & Astrid Savaresse Earn Valedictorian and Salutatorian Spots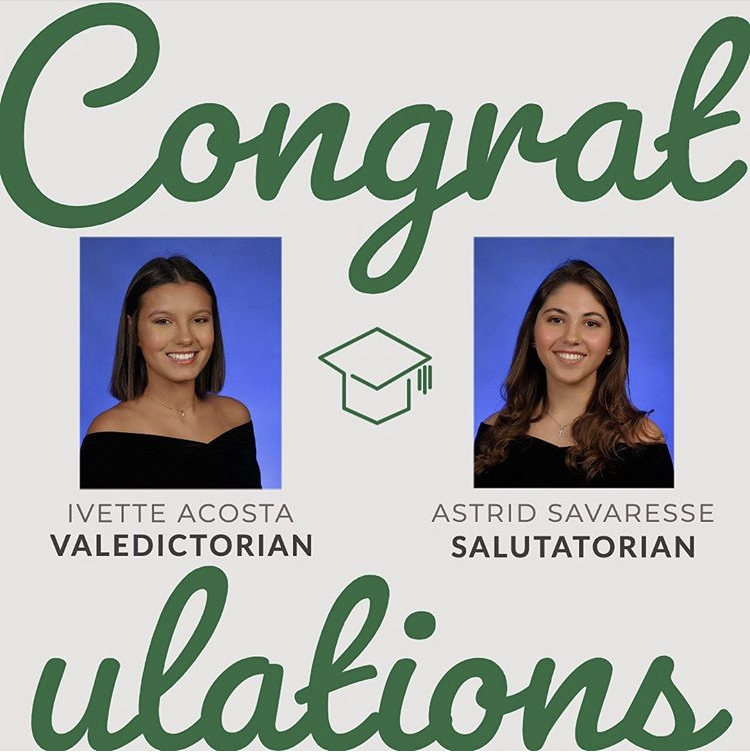 As the seniors of 2020 prepares to finish their high school journey, two of their more than 200 classmates have found themselves situated at the top of the class.
On Wednesday, Ivette Acosta and Astrid Savaresse were officially announced as the Valedictorian and Salutatorian of Immaculata-La Salle's Class of 2020.
"The Class of 2020 has always been a class full of talented and hard-working students that have always pushed me to do better," said Savaresse via email. "With being part of such a class, I personally feel really honored and proud to have reached this position, and to be sharing the stage with Ivette. Being Salutatorian was not a reaching goal for me, but it is because of this that I feel so blessed to receive the recognition, making all the hard work and effort even more worth it."
Acosta echoed similar sentiments.
"This was such an exciting moment for me. I am so proud, because it is a huge accomplishment," said Acosta. "I have truly worked hard throughout these four years, but the accomplishment is not only my own. I am really proud of myself and Astrid, as we've truly worked hard for these positions. I was glad to make my family and friends proud, and thankful for ILS in forming an amazing foundation for the rest of my life."
Both Acosta and Savaresse praised their teachers for their leadership, passion and vision. Acosta said her teachers made it "intriguing and fun" and Savaresse said she felt lucky to have had "great teachers" to guide her and make the environment exciting to learn in.
"
I am confident that both Ivette and Astrid will continue to change the world around them in a positive way and continue blazing trails for more young women in the future."
— Dr. Lauren Gomez
Dr. Lauren Gomez taught both in their first AP class as sophomores. "Although both young women were exceptional students, it was their personalities that truly shined the brightest," she said. "Ivette was a dedicated, passionate student that never let any obstacle stand in her way. She was always ready with questions and facts about each lesson. Ivette also found time to help her classmates and make sure they had everything they needed to succeed."
"Astrid was a more quiet, determined presence in the classroom," Dr. Gomez continued. "When Astrid spoke it was always confident and explained in a way that helped everyone around her understand."
Ms. Lexi Quintero worked closely with Acosta over the years as part of the Math Honor Society. "Ivette is a Queen!" she said. "It's hard to put into words who Ivette is and what she means to so many people," Quintero explained. "[Acosta] is one of the brightest, most dedicated individuals I have ever had the chance of knowing. Ivette has the power to bring order to areas you didn't know needed it. Her successors have big shoes to fill. Math Honor Society will not be the same without her."
Ms. Julie Anne Cannon also spent time with the two. "Astrid and Ivette have both been an integral part of making Mu Alpha Theta what it is today. Astrid was an exemplary and generous tutor, always going above and beyond in explaining and making sure students felt comfortable and understood. She was awarded the first ever 'Tutor of the Month' for her spirit of generosity and selflessness.
"[Ivette] is without a doubt one of the most inquisitive, passionate, and all-around brilliant students I've taught. She was an asset to our classroom environment, bringing out the best in her classmates and in me as a teacher," said Ms. Cannon. "She was the ultimate 'Math' leader in our community, setting the tone for excellence in service (tutoring), organization, logistics, professionalism, and in preparing for competitions. She naturally makes everyone around her better through her dedication, commitment, and pure passion for math."
Acosta revealed she particularly loved "Pre Calculus, Calculus, Biology, Physics, Anatomy, English Literature, and Costume Design. I loved all of them for different reasons, but they all taught me to strive to be my best self and provided me with constant support, reassurance, and motivation. These classes and the teachers shaped my experience at ILS and played a huge role in who I hope to be in the future."
Savaresse called math and chemistry her favorite subjects.
"It's actually been through these classes that I've been able to define my career choice," said Savaresse. "In addition, I would say that my STEAM engineering classes were definitely some of the most interesting classes I've ever had because I've been able to build and create, not just different gadgets and projects, but also amazing friendships with my peers throughout my four years together in the program."
Both of these young women spent all four years at ILS and thrived in the Salesian-centered environment.
"I will always remember all the day-to-day activities, like seeing my friends in the hallways or eating lunch with them," said Acosta. "I will always remember our homecomings, retreats, dances, and games, as well as all the teachers and administration who truly make the school what it is."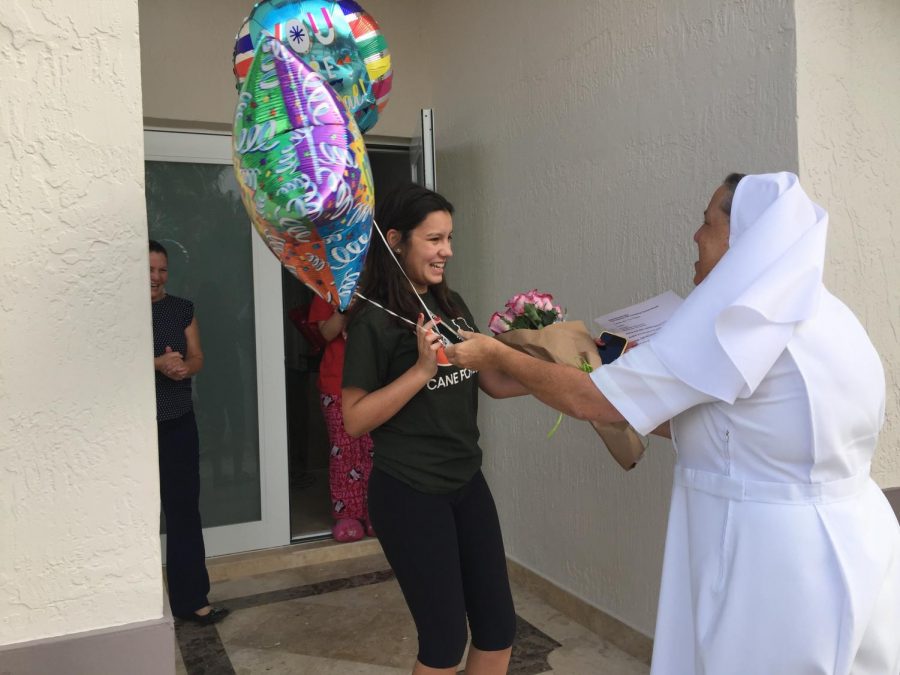 Most would agree what separates ILS from other local high schools is the seemingly extended family feel of the campus.
"My lasting memory from being a Royal Lion definitely comes from the relationships that I've been able to develop with both my teachers and peers from every class," said Savaresse. "Whether those relationships were good or more on the rocky side, I still cherish all of them because they've all helped me become the person I am today."
"
The Class of 2020 has always been a class full of talented and hard-working students."
— Astrid Savaresse
The two left lasting impressions on other teachers as well.
"Although she is very reserved and quiet in class, [Astrid] does have such a positive and vibrant charism that allows her to be noticed and heard without even speaking," said Mr. Luis De Prada. "Her humility and willingness to serve and be available to others is truly an inspiration in the classroom and anywhere she goes."
Mr. De Prada lauded Acosta's willingness to learn more in a genuine way. "She is always up to the challenge and wanting to help others specially when collaborating in small group discussions."
"Congratulations ladies!" said Mr. Ruben Ilizarbe, a teacher in ILS's STEAM program. "You have done an amazing job."
Even a former ILS teacher chimed in when she heard the news. "Both of these girls are total rock stars! It was a pleasure teaching them!" said former ILS science teacher Michelle Rydborn via Instagram.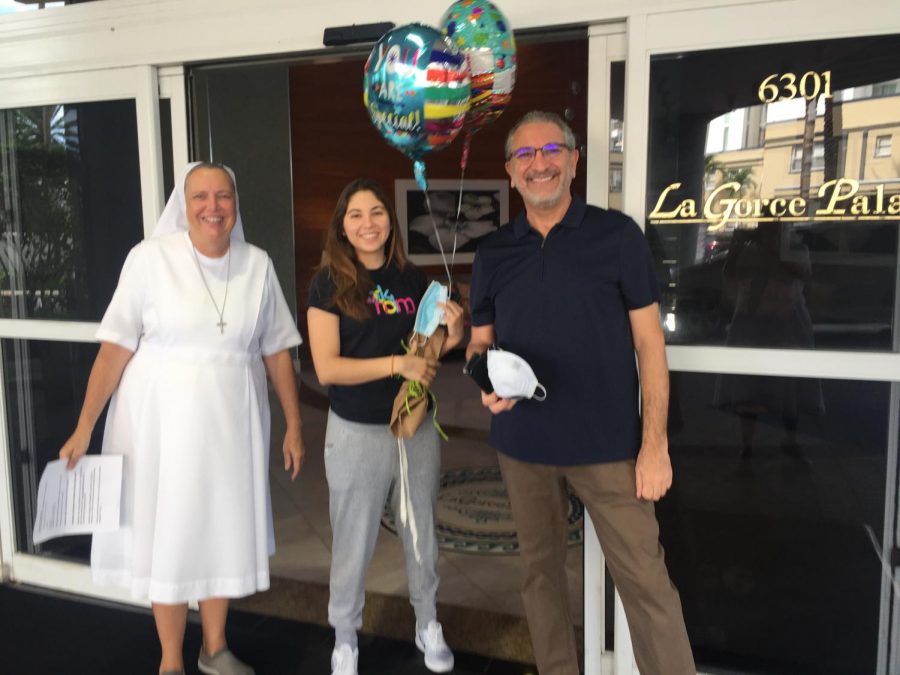 After four incredibly successful years at Immaculata-La Salle, both Acosta and Savaresse are ready for their next challenges, taking on big colleges with huge aspirations.
Acosta will attend the University of Miami as a member of the U's Foote Fellows Honors Program, PRISM Honors Program and Health Professions Mentoring Program. She plans to major in Biology, with a minor in Chemistry and Psychology.
Savaresse will attend the Georgia Institute of Technology, commonly referred to as Georgia Tech, this upcoming fall. She'll focus on Materials Science and Engineering.
Acosta hopes to pursue a career in the medical field, particularly in pediatrics, cardiology, or obstetrics and gynecology.
Savaresse, on the other hand, called college a place to take one step at a time. "Opportunities come from so many different directions, so I'd rather prefer to stay open to see what's in store for me," she said.
The ILS community played a significant role in the growth and development of both Acosta and Savaresse, the young ladies acknowledged. Acosta listed more than a dozen teachers as having influenced her over the last four years. She said these teachers helped make ILS "what it is: a school, a home, a playground, and a place of worship. I'm so thankful for these and all my other teachers throughout my life."
Savaresse thanked the entire school community, saying she is "grateful to have the ILS family with me as amazing support and love."
While the in-person graduation for the Class of 2020 has been postponed, eventually, these two will take the stage as the leaders of their class. This group as a whole has seen their traditional ending of the high school experience derailed, but they've rallied to make the most of a difficult situation.
"I will always remember senior year in particular because, even through these difficult times, ILS has strived to make us feel special," said Acosta. "I'm so thankful I was able to attend ILS because it has truly molded me into who I am."