Cheerleading Head Coach Named Coach of the Year!
Awards for the ILS Cheerleading squad keep rolling in. After winning the Immaculata-La Salle's first team state championship this year, and seeing six Lady Royal Lions cheerleaders earn All-County first team honors from the Miami Herald, the ILS Cheerleading Head Coach Coral Buxeda was named Coach of the Year at the Miami Herald's Athletic Awards ceremony on May 27th.
This honor is the cap to an incredibly successful season that saw the ILS Cheerleading team win States, after being a state finalist in 2019.
Led by team captain Sophia Peñas, ILS won the Class 1A Extra Large Division, Non-Tumbling division with a score of 78.10. They finished four points ahead of the second place school  Stranahan High School from Fort Lauderdale, and five points ahead of third-place Trinity Catholic from Ocala.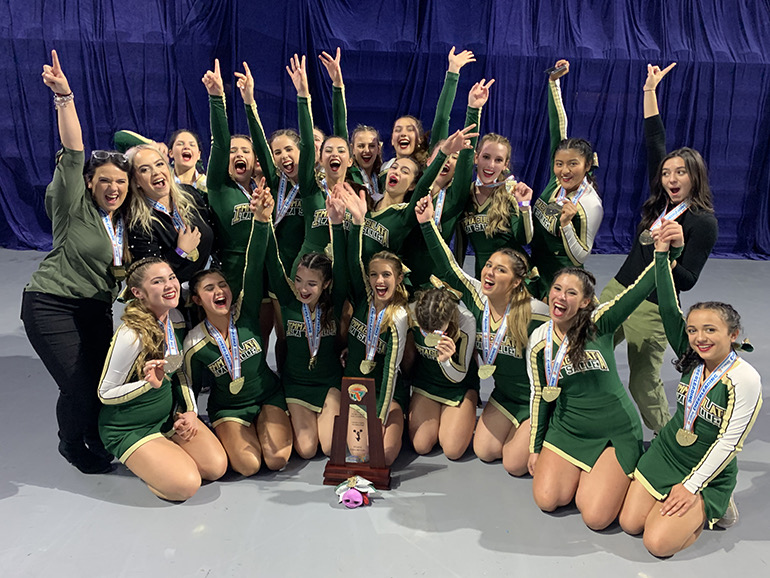 "Through injuries and people quitting, the team went through a lot this season," said ILS Cheerleading coach Coral Buxeda. "We practiced almost everyday from November to the day before states to make sure that we had a perfect showing. When they announced us as state champions, it made all the blood, sweat, tears, long practices and sleepless nights extremely worth it. I believed in this team since the beginning. The cherry on top was it being our school's first state title in 60 years. What an honor."
Coach Buxeda said she built a winner with research. She studied those who had won before. She studied previous scores. She looked at school websites to see how others succeeded.
Buxeda started with the Cheerleading program at ILS three years ago, and the Royal Lions cheerleaders didn't even partake in competitive cheerleading that season. Last year, they qualified for nationals but placed 14th. Now, they're defending state champions! Their state championship was the first in for ILS in a team sport.
Also honored at the Athletic Awards ceremony were all of the First Team All-Dade county team, which comprised of sox cheerleaders and one soccer player: Alexandra Garcia, Kaitlyn Laurido, Sofia Peñas, Isabella Sacasa, Ana Victoria Salazar, Valerie Welvaert and Kamani Tuner.