Seniors take ACT at School
Bring your number two pencils, calculators, and masks—it's ACT day. But this one looks a little different for the Class of 2021.
In past years, Immaculata-La Salle High School has provided a free ACT (American College Testing) for the juniors in the spring. However, due to Covid restrictions and guidelines, the Class of 2021 did not get to take the test until now.
Faculty successfully coordinated teachers and implemented social distancing guidelines to ensure the safety of their students. The arrows on the floor allowed for efficient translations, making it simple for each assigned class to move freely if needed be.
Almost 200 seniors came to school to take the ACT on Thursday, October 6th, 2020. In addition to wearing masks while testing, students had their temperature checked as they came in and were placed into different classrooms to limit the amount of possible physical contact.
Usually, students test throughout the main building in different classrooms. This time, students were placed all over campus to maintain a safe distance from each other.
Senior Sofia Arteaga was grateful for the effort put into ensuring everyone was comfortable when taking the exam.
"I definitely felt safe and comfortable taking the ACT because in my classroom we were all socially distanced and protected with masks," said Arteaga.
While many colleges are not requiring ACT scores for admission this year, providing the test is still important to ILS administration and students. Many students faced cancellations regarding the SATs and/or ACTs they had previously registered for.
Senior Marjorie Amaral was not able to take any of the standardized tests needed for Florida school applications until just now.
"I had registered to take the SAT in August, but it was canceled. I'm thankful that La Salle offered me the opportunity to take the ACT because if not I wouldn't have had any test scores," said Amaral.
Many colleges have become test optional, leading students to not worrying that heavily about their scores. However, a great score can lead to merit scholarships and a higher chance of acceptance, so it's important to try one's hardest.
After the ACT, the seniors were distributed their yearbook for the 2019-2020 school year. It was an amazing way to end the day— looking back at all the memories made over the course of their years at La Salle!
About the Writer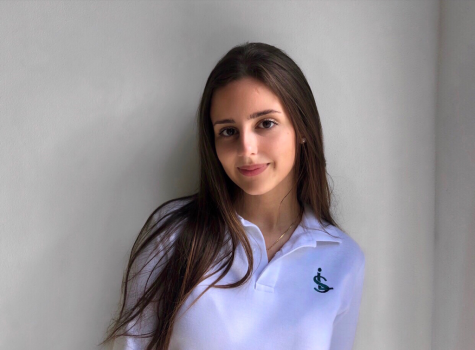 Arianne Cendon-Ruisanchez, Editor



Arianne Cendon-Ruisanchez is a senior at ILS and is enrolled in Journalism 2. Arianne enjoys covering Campus Life and is extremely passionate about working with the Guatemalan-Maya community.