ILS Basketball Title Run Falls Short
In a span of four days, the Immaculata – La Salle Boys' basketball team changed the narrative once presumed of them.
Entering the 4A District 16 playoffs as the No. 6 seed, the Lions hadn't received any high expectations prior to their meeting vs. No. 3 Gulliver Prep.
The quarterfinal matchup for ILS was against a Raiders team they've failed to take down since 2015. That didn't fear coach Derrick De La Grana's group, rather, it gave them an eagerness to pull off an upset.
That said, ILS started aggressively in the first half and finished strong late, propelling a 58-39 victory. Senior Emilio Ramirez led the way with 25 points, while juniors Delvin Espinoza and Brett Gurka each added 10 points.
The win put LaSalle in the semifinals vs. No. 2 Key West, who possessed a 5-10 record coming into the Lion's Den. The Conchs had the advantage early, jumping into an 11-point lead in the second quarter. That was until a shooting spree from ILS put them on top at halftime and ultimately garnered them a 76-57 victory.
Ramirez upped his total with 28 points, while Giorgio Saumat and Gurka had 14 apiece. Espinoza had 10.
LaSalle 2-0 start to districts landed them in the championship game, a position they hadn't landed themselves since 2011-12. But in a rowdy crowd with tons of excitement, ILS couldn't go on top, losing to Miami Sunset 57-55 in an overtime thriller. ILS overcame a fourth-quarter deficit with less than 50 seconds left, but a failed game-winning attempt from Ramirez forced extra-time, where a number of controversial calls and missed possessions gave the Knights a win.
"It was definitely heartbreaking," senior captain Wael Harb said." "We had a real shot at making history at LaSalle, so falling short just hurt. However, we're still very happy with the way we ended things."
LaSalle was scheduled to take on North Miami Beach (9-11) in the quarterfinals of the 4A Regional playoffs. A victory would've opened the door to a district title rematch vs. Sunset, and an opportunity to return to the regional championship for the first time since 2006.
That was until the Lions had multiple positive cases on the team, forcing them to cancel the game and put an end to their season.
"The season being shut down hurt because our team had finally gotten into a rhythm, and it's not like we got knocked out and lost," head coach Derrick De La Grana said. "Not being able to play the actual game hurts because I know we had a chance to win."
The Lions concluded their season with a 5-12 record, with all five victories coming at home. The 2020-21 campaign concludes the high school career of Ramirez, who averaged 20.4 points per game this season, Michael Yero, who led the team in rebounds per game (5.7), Anthony Yero, a career 50% three-point shooter and Harb, a two-year varsity player.
As the focus shifts to the future for De La Grana, one thing is clear: this 2021 class has shifted the focus of La Salle basketball to competing for banners. That shouldn't change anytime soon.
About the Writer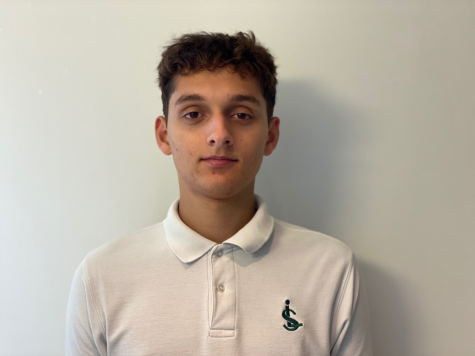 Michael Yero, Writer
Michael Yero is a Senior at ILS and is enrolled in Journalism 1. A varsity basketball player, Michael enjoys writing about sports and sharing people's stories.