ILS Going Green
For years now, Immaculata-La Salle's teachers and students have been trying to reduce plastic waste, and to make the school an environmentally friendly place. This has been an ongoing project between teachers and staff, and starting with the small things, and a significant impact has already been felt.
ILS, like many schools in the Archdiocese of Miami, uses iPads for school work, which saves considerably on paper. This paperless approach to the learning process began in 2015 and has drastically reduced the paper waste generated by the school. Teachers use the Showbie for homework and classwork, forgoing handouts and take-home worksheets. Many major assessments are completed using MasteryConnect or Socrative, which allows the students to use their iPads to answer the questions.
Each of the classrooms also have recycling bins, which are great for disposing of used water  bottles, soda cans, and paper that would otherwise be thrown away in the trash can.
The Go-Green movement extents beyond the classroom, though. ILS's cafeteria has recently implemented paper plates, which are huge step up from the styrofoam crockery used in the past. The cafeteria staff has also helped with these changes.
Jason Hall, Food Service Director at ILS, has spoken about the staff's upcoming ideas where the cafeteria will contribute further.
"We are in a planning phase of a Community Garden where we could at least grow our own herbs. This plan would include a composting device to utilize scrap and waste," said Hall.
Many on campus don't realize that things we eat can be very unsustainable. From small things like plastic wrappers and water bottles, to the over consumption of meat, these actions have a significant impact on our environment and the greenhouse gasses present in the atmosphere.
It's hard to notice some of the things in the day-to-day grind that can severely impact our environment in a negative way.
Ms. Cecilia Calleros, moderator of the Environmental Club, has helped lead the movement at ILS to go-green.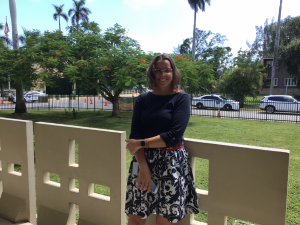 "Giving some thought to what we eat will help a lot, and trying to make non meat choices as much as possible, as meat has the biggest impact on the environment. Raising food counts for a lot of the greenhouse gasses," said Ms. Calleros. If the school would be willing to take one day out of the week to be vegetarian, that would make a difference.
Mia Trent, a Junior at ILS, is a member of the Environmental club and gave her thoughts on being more environmentally friendly.
"I think it's important to go green because it can help slow die climate change," Trent said. "Climate change is very prevalent in our everyday lives, we see the waters rising and the temperature drastically changing. Hopefully, we can set and example for others and show them that we can possible delay the devastating climate change events."
Dr. Rebecca Shaw is the STEAM Coordinator at ILS and heads the Science department. As a Marine Science teacher, she shared ideas on how to help.
"I would like to see more recycling bins around campus and at our large sporting and school events," said Dr. Shaw. "And if I were dreaming big, I think solar panels would be amazing!"
The oceans are a huge part of the natural ecosystem, and with ILS being located on an ocean-front property, the school community should make an effort to protect what we have.
"ILS is located on the bay, we have a responsibility to protect it and the surrounding habitats. We have an opportunity to set an example to other schools and our surrounding community that there are doable actions we can take every day to reduce our carbon footprint," explained Dr. Shaw.
Although the Environmental Club has held ocean and beach cleanups, students should be more involved to host these activities on a regular basis, and make them well-known around campus. The effort to Go Green is an important one and one that should be undertaken by all.
One of the simplest ways to join this effort is to purchase a refillable water bottle – it takes three times the amount of water that's in a plastic water bottle to create the bottle in the first place. Some other ways include buying 100 percent recycled paper and notebooks–be sure to use both sides of the sheets whenever possible; writing with recycled pencils; and recycling while at school.