Costume Design and Tech Theatre
Costume Design and Tech Theatre is one of the many electives you can take from the Fine Arts department.
Costume Design and Tech Theatre is a two semester class. Costume Design is the first semester class where you learn to design clothing and sew them from scratch while Tech Theatre being the second semester class is where you learn about how to make props, set design, and makeup.
Both of these classes correspond with each other because they both prepare you for the other.
Even though this is a drama class it involves no acting which some students seem to misinterpret. This class shows there is a lot more that goes into drama then just acting and makes you appreciate theatre.
When the Head of the Drama Department Mrs.Wildenburg, was asked how she feels this elective has changed La Salle she responded with "I think this class has changed La Salle because it's teaching students, well not only teaching but feel it's also getting them excited about drama."
Students who join this class do not have to have any previous experience in sewing, set design, or theatre makeup. 
Mrs.Wildenburg commented I know that there are some students here at La Salle, who are not excited about acting or maybe they feel shy about it so this is one way that you can join theater, without having any experience in acting, drawing, or making things from scratch.
Mrs.Rodriguez is the teacher for this elective but while she is on maternity leave Ms.Orelle is taking over the program.
Mrs.Wildenburg said "Mrs Rodriguez, has been very patient and a great teacher for teaching the basics of this elective."
A lot of male students believe that since there is makeup and sewing involved that most boys wouldn't take this class but the makeup isn't your everyday makeup. It varies from learning to make yourself look older, younger, and fight scenes.
There has recently been a Costume Design ll added to the list of electives which has brought many students back into the program.
When Ana Sol, current costume design ll student was asked how this class has impacted her she replied with "This class has impacted me because I've learned about so many different types of clothing, and learned different techniques on the sewing machine."
Learning how to sew can be very useful for everyday life for if you ever break or rip your clothes  you can easily stitch it back together. 
Valeria Sabalza another costume design ll student said "Yeah, I definitely believe students should look into the class because it's definitely a good learning experience."
Costume Design is a wonderful class that can teach students new skills they didn't know they could master. It's a great way to destress and disconnect from your core classes. 
About the Writer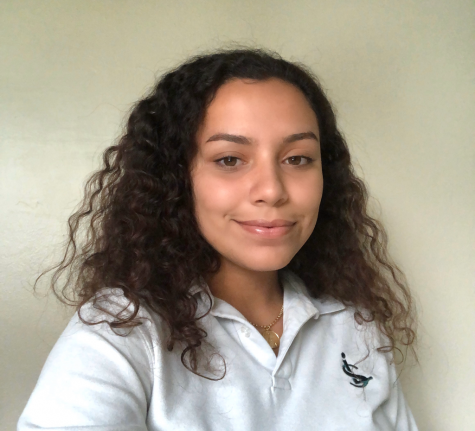 Lia Sarria, Writer



Lia Sarria is a senior at ILS this year and is enrolled in Journalism 2. Lia enjoys learning and writing about fashion and pop culture.