Senior Spirit
On Wednesday, August 19th, the 2021 senior class of started their last first day of high school via Zoom.
Due to these unprecedented circumstances, they weren't able to participate in the annual Senior Sunrise, a highly valued tradition in Immaculata-La Salle High School. However, this did not prevent the seniors from showing their school spirit.
Students decided to take matters into their own hands. Following another great ILS tradition, they picked up crowns from their nearest Burger King.
They decorated their crowns in red with paint, glitter, feathers, markers, and stickers. On each of their crowns, students wrote their name in a large font.
Senior Sofia Arteaga created her mask over FaceTime with her friends. She painted it red and decided to write her name with stickers.
"I really felt the school spirit as I created my crown and decorated it with some friends over FaceTime," said Arteaga. "It felt as if we were all together in school again."
On Friday, August 21st, the senior class assembled together to start off the year with positive affirmations from the school staff.
Ms. Varese, Mrs. Beltran, and Ms. Hoyos all shared their gratitude and hopes for the class of 2021 and wished the seniors a happy and successful school year.
Senior Pedro Beron-Vera thought that it was a really welcoming way to start off the year.
"It was definitely a really cool way to start senior year. I didn't expect us to do anything special since we are all still quarantined," said Beron-Vera.
Class of 2021 all smiled together for their first class photo of the year. Hopefully the next one will be on campus.
Seniors, remember to wear your masks, self-quarantine, and bleed red!
About the Writer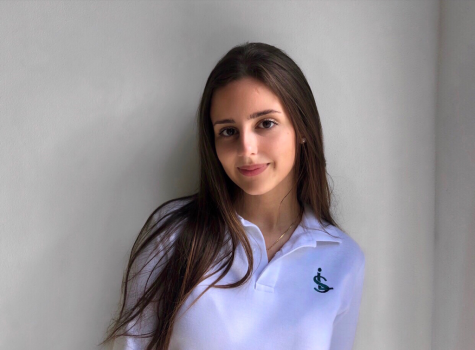 Arianne Cendon-Ruisanchez, Editor



Arianne Cendon-Ruisanchez is a senior at ILS and is enrolled in Journalism 2. Arianne enjoys covering Campus Life and is extremely passionate about working with the Guatemalan-Maya community.