Self-Care and Faith During a Pandemic
At a school like ILS, going virtual means the students lose more than just the face-to-face interaction with their teachers and friends. Virtual school robbed the student body of the thing that made ILS most unique among South Florida high schools, the faith-centered, family environment. In an effort to maintain that ideal, Director of Campus Ministry, Mrs. Milagros Beltran, made the move to incorporate virtual moments of reflection on a daily basis.
Mrs. Beltran created "La Pausa," and integrated it into ILS's daily morning prayers as a moment of reflection and attention to self care. 
"While on retreat and sharing with other adults, I realized how much the young people felt stressed, overwhelmed, and disconnected," said Mrs. Beltran, who was referring to how Salesian schools around the nation participate in Salesian Leadership Retreats, referred to as OLR and MLR.
As a reaction to this, the concept and practice of "La Pausa" has been shared with the La Salle community. 
Until campus life returns to normal, "La Pausa" is a daily invitation to self care and a disconnect from life's many obstacles, "pausing," and reconnecting with oneself.
"We hear you say that your schedules are jammed packed from early morning to late evening," said Mrs. Beltran. "That expectations in academics and extracurricular activities are often at the top of the list, but little time to accomplish goals because you are so tired. 'La Pausa' was my response, we need to take intentional pauses to give ourselves appropriate care. We need to sleep, eat well, exercise, but we must also take time to reflect, meditate, pray."
Mrs. Beltran is working with her group of Peer Ministry students and ILS's LTV and Social Media teams to reach the community of La Salle alumni and parents during the pandemic.
"This year, as we all know, poses many challenges (not obstacles) and I am confident that you the young can aid in aiding to tackle these," said Mrs. Beltran. "There's been a shift in perspective, one that can perhaps leads us to ground ourselves in hope and/or hide away with fear an anxiety."
Beltran relies on her Peer Ministry classes, the Campus Ministry team and Theology teachers to help in this process.
"As a Peer Minister, I think it's always been important to find ways for people to stay connected with themselves and others, just now at a distance," said senior and second year Peer Ministry student Emma Callaghan.
Campus and Peer Ministry recognize the importance of decompressing, strengthening faith, and connecting with one's community (safely)— especially during the coronavirus pandemic. Although the logistics are being worked out, retreats and other faith-forming activities are still a large focus of Campus Ministry. 
"Right now, our community needs presence and accompaniment and although socially distanced, we can bridge the gap," said Mrs. Beltran. "Ministry and innovation must work together to connect and invite people and to encourage a deepened understanding of human connection."
About the Writer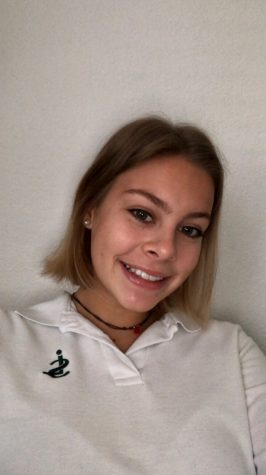 Lauren Fernández, Writer
Lauren Fernández is a senior at ILS this year and is enrolled in Journalism 1. Lauren enjoys reading and writing, and looks forward to contributing to the "Royal Courier."