Homecoming: Color War Tuesday (and Friday!)
Next week, ILS will be having Homecoming Week virtually and in person! On Tuesday, it will be Color Wars and LTV games! Of course, there are still COVID guidelines for the activities.
The Homecoming Schedule for next week is:
October 31: Parade where ILS staff and SGA will be handing stuff out to each grade to gain points for the first event.
"Media Day" Monday: Students dress in green and gold and LTV Games will be aired. Freshman will be decorating the cafeteria and voting of best in class and bets of school.
Color Wars Tuesday: Students dress in class color, LTV Games will be aired. Sophomores will be decorating the cafeteria and a social distanced color wars around the track.
Theme/Skit Wednesday (Virtual): Students will dress in their class theme and watch each grades skit that will be aired on LTV. Judges will use "Loom" to judge who did the best skit.
Royal Thursday: Students will dress in green and gold again and LTV Games point recap will be aired. Juniors will be decorating the cafeteria and pre-recorded pep-rally videos will be aired. We will also have a message from fall sports promoting their games.
Color War Friday: Students will wear their homecoming shirt (white shirt tie-dyed in class color with green lettering). Seniors will decorate the cafeteria and the final points will be aired on LTV. They will also be have a "part 2" of the Color Wars from Tuesday so that Green Hybrid students will have the same experience.
On Monday and Tuesday, LTV will be airing games as if it were a pep rally. There will also be showing a points recap from the games won so far. The points would be from the parade that is happening Saturday and who is winning the dress out days as well as the Tik Toks.
This years homecoming theme is music throughout the years. Seniors are hip hop, Juniors are rock, Sophomores are country, and Freshman are latin.
On Tuesday, every grade level will dress in their class color. Seniors are red, Juniors are blue, Sophmores are Orange, and Freshman are Purple.
"With everyone working hard on SGA, we are trying to make it as normal as possible for the students to have a fun homecoming! I recommend for everyone to go all out, have fun, and be safe!" said Sophomore Class President Karolina Campos.
This day will mainly revolve around the sophomores. The sophmores that are in Yellow Hybrid will be decorating the cafeteria and students are home will use a tie-dye kit at home using their class color.
SGA has also prepared a huge playlist on many popular country songs you all know and love. During lunch, they will be playing country music and serving a country styles lunch at school.
The cafeteria will be turned into the "Wild West" with many surprise decorations and ideas placed around the cafeteria for everyone to get into the country mood.
"I really hope everyone loves what we have tried to accomplish by doing homecoming in the situation we are in. I hope they participate and make it fun to win points and show school spirit!" said Campos.
At the end of the day, all the ILS students and staff will gather, but social distanced, around the track and throw chalk colored powder into the air as a celebration of Color War Tuesday.
Remember to please be safe during these events and have fun!
About the Writer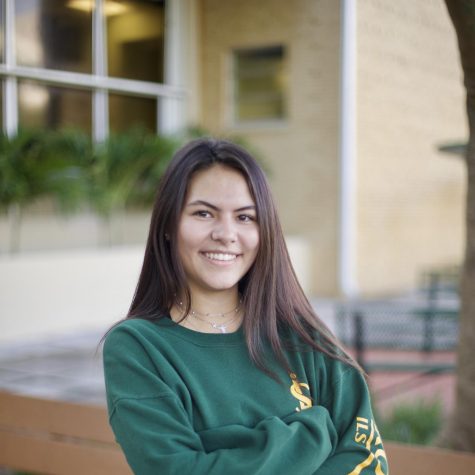 Bianca Sanz, Writer



Bianca Sanz is a senior at ILS this year and is enrolled in Journalism 2. Bianca enjoys fashion and videography. She also loves writing about entertainment.