First Club Fair Post-COVID
Though ILS hosts a club fair every year, this year it's quite different no thanks to COVID. Normally, it is a showcase for clubs open to all. Given the safety protocols, only freshmen and transfers had access, whereas other grade levels could only stop by after school. COVID, however, did not interfere with interest or turnout.
SALTT, the biggest club at ILS, which works with Guatemalan migrant children in Lake Worth, Florida, garnered tremendous interest among freshmen as well as transfer students.
"SALTT aims to create a safe space for these kids, who are often scared of deportation or being separated from their families. This club hopes to bring joy, light, and friendship to these little kids and it really is a second family that we create for them," said senior and co-president Remy LaMaire.
Focused on helping out the neediest, club moderator Mr. Tim Gamwell, an English teacher and alum, has almost been with the service organization since the beginning.
By donating items and participating on regular field trips to Lake Worth, SALTT club attracted potential new members by affording them the possibility of designing their own SALTT shirts.
"This hands-on aspect is a big part of what we do: having fun with the children of the Escuelita Maya in Lake Worth. All of our field trips and summer camp classes have an arts-and-crafts component. The kids go home with handmade shirts, banners, and arts-and-crafts projects so previewing that with new members was special. It gave everyone a chance to connect our activities with who we are," explained Mr. Gamwell.
The Future Filmmaker's Club is a first-year club founded by Junior, Alfonsina Santucho and moderated by Mr. Tony Mendez, TV production teacher. The purpose of this club is to bring together students interested in filmmaking at ILS. Alfonsina aims to advance their editing, screenwriting, and filming skills. Members of the club, such as Junior, Alessandra Merino, were eager to recruit new members and begin. They advertised their club by setting up a large, eye-catching poster, and displaying the equipment use to produce content.
"The club fair was amazing, we got to meet so many new students who are interested in film and got a chance to grow our club," said Alfonsina.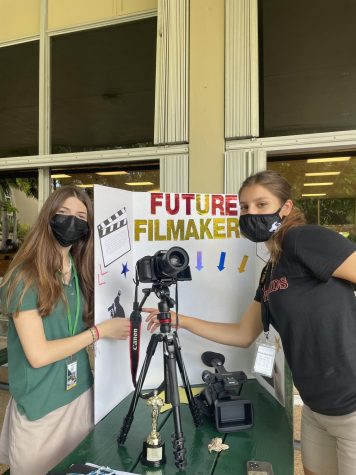 HOSA is a global, student-led club whose purpose is to grow their knowledge in the medical field. Several moderators, one being Jose Manuel Companioni or as the students call him 'Mr. C', is an alum and teacher. Mr. C and other moderators take club members to compete at various events. HOSA is recognized by the U.S Department of Education and Department of Human Health Services. They participate in things like doing CPR and PSA's on medical subject matter. In order to prepare for the club fair, they held several meetings to discuss their advertisement strategies. They created a poster, displayed a model of the human body, and had board members available to answer any questions. This gave potential new members an opportunity to really see what the club would be about. This club is also a very big and important club at ILS as it gives interested students an opportunity to learn and practice what they wouldn't be able to do on their own.
"I expect this year to be an eventful year with HOSA. I look forward to the students being able to compete again. I hope we are able to compete in person so they can experience all HOSA is," said Mr. Companioni.
Post-COVID, club moderators and board members were very eager to have new members, especially since this year they will be able to participate in person. Every club has a different moderator and a different joining process, to join a club you would have to look for the moderator of the club you would like to join and contact them. If you don't know the moderator this can be accomplished by emailing teacher, Eric Beltran, organizer of clubs. There are 33 clubs on record, but this doesn't included honor societies, and the clubs added this year. Club fair 2021 there were about 20-40 clubs presenting at the club fair this year.